When your software systems talk to each other, your team can focus on building a great training business – not manually moving data around.​ By connecting your training business with integrations, you can transform your data and automate processes that weren't possible before.
Every training operation has some sort of management system in place, including yours!​ Your current system might not have a flash interface – it might just be a collection of spreadsheets that you use to manage your training operations. You might be manually updating data across systems, you may get caught out by human error. But it still does the job. ​
Or, maybe you've taken the first step in automating processes and you've invested in a training management system, like Arlo. You're now able to manage your entire training business from one central hub; schedule courses and presenters, track payments and business growth, and provide relevant marketing. All under one roof. ​
The next step is to add integrations into the mix, and you can easily create workflows for your data to be synced to and from your TMS with your favourite software – like Mailchimp, Hubspot and Google Docs.
What are integrations?
An integration is the process of combining two or more software systems so that data flows seamlessly and automatically between them. Think of it like a plug connecting two systems together.​
Most integrations are built using an API (application programming interface). ​But don't worry too much about the technicalities – basically, it's a computing tool that developers use to build processes that send information between systems either as a one-way (out or in), or two-way (out and in), stream.​
When it comes to integrations, you've got two viable options: a native integration (if it's available), or an Integration Platform as a Service (iPaaS), such as Zapier.
Let's explore both in more detail.
What is a native integration?
Native integrations are built and managed by in-house development teams. Most modern applications will offer some native integrations as part of their software package. ​
For you, they're easy to set-up, offer deep functionality and just work.​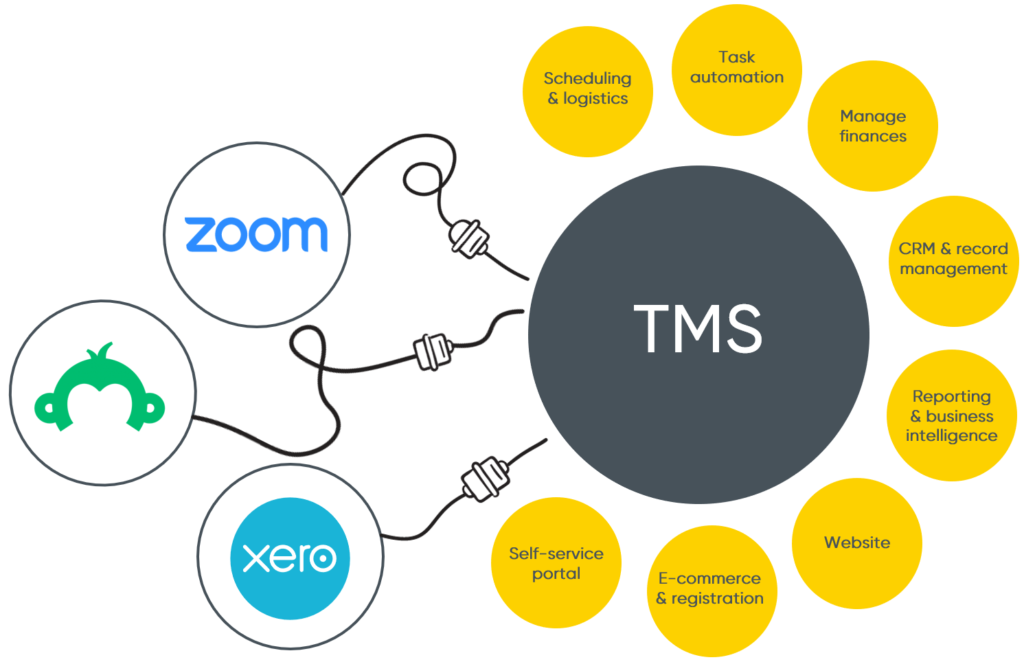 But… for vendors, they take a lot of time and effort to build, so it's impossible to integrate with every app out there. The choice to build these specific integrations came from a mixture of customer need and demand, cost v benefit, time, adaptability and scalability.
For example, at Arlo we offer native integrations with Zoom, Salesforce, Xero, Moodle, Survey Monkey and a few more. Let's take a look at how Arlo's native Xero integration can take the repetitive, manual tasks out of accounting work.

For example, when someone registers on your course:​
Automatically create an invoice in Xero​
Automatically update customer info in Xero​
Automatically send invoice to billing contact​

When invoice is reconciled in Xero:​
Xero updates payment status in the TMS​
TMS automatically sends event instructions to registrant​

​Other features:​
Easily process refunds​
Apply discounts​
Prevent duplicate data​
Manage group bookings​
Easy reconciliation​
Audit trail
That's a whole lotta time and money saved with just one integration!
What is a Zapier integration?
Zapier allows you to connect your training management system with more than 2,000 other business apps to automate repetitive tasks. Users adopt existing templates to connect apps and build workflows, meaning no technical knowledge is required and no code is required.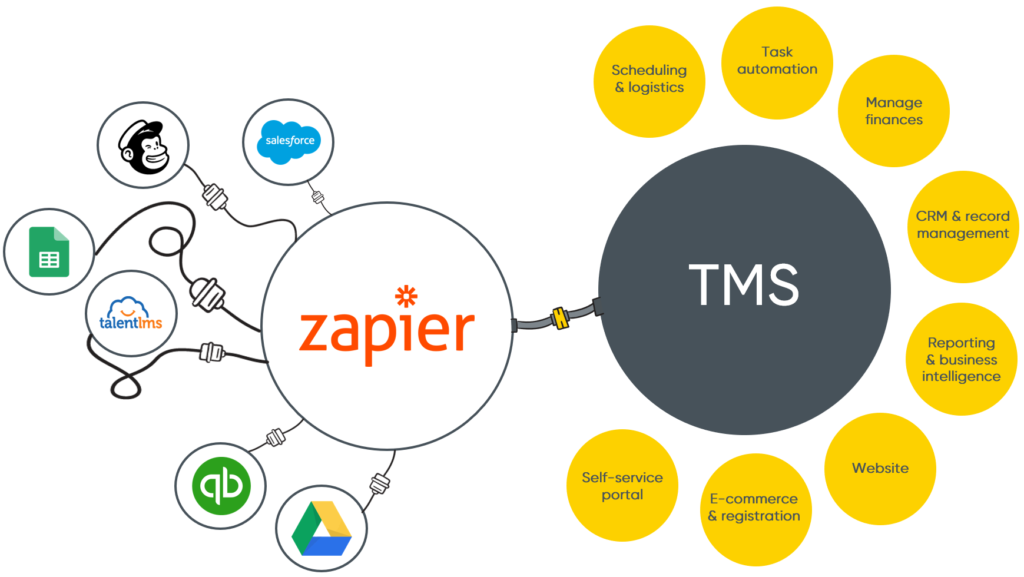 The user creates these workflows by setting up "zaps". A zap is an automated task that you want to run again and again between online apps e.g. Arlo TMS and Mailchimp. A zap consists of a trigger and an action: When this happens (Trigger), do something (Action). Once you have created your zap, Zapier will check your trigger every few minutes for new data. ​

For example, if a new contact registers for a course in Arlo, you can set up a Zap to automatically add new contacts into your CRM (such as Salesforce), you can then go on to subscribe or unsubscribe them to email lists in a marketing automation tool as as Mailchimp.
Mostly, Zapier is designed to move data automatically between systems. It will undoubtedly save you time, but it does have limitations in what it can do – you won't get the deep functionality that you'll get with a native integration. Plus, you'll need to learn how to use it, and there's an ongoing subscription cost (affordable) per task.
What is the best option for my training business?
Both options are good ones when the alternative is manual administration. Integrations are much more cost effective and time-saving than manually moving data between systems.
Ultimately, to come to the best solution for your individual training business, you'll need to define your integration requirements up front – even before you pick a training management system. Define the tasks you carry out between systems, how many hours you spend doing those tasks, and the associated costs. If your biggest admin cost is in transferring data to your accounting system, then a native integration with that particular app should be high up your requirements list. From there, you can check if any particular TMS offers the native integrations that you require for your existing software applications.
Bear in mind that native integrations are rare, and you might not find exactly what you're looking for. An alternative option is to switch your accounting system to one that is already supported with a native integration with your ideal TMS. For example, if you have Arlo as a TMS it might make sense to switch to Xero from Quickbooks. It's up to you to figure out the costs v benefits.
Once you've nailed your native integrations (if possible), then you can fill in the gaps with Zapier. If you're spending a lot of time manually moving data between your web applications, then a training management system that integrates with Zapier is going to be a game-changer for you.
Currently, Arlo is the only TMS that integrates with Zapier – meaning we have the most comprehensive solution when it comes to both iPaaS and native integrations. If you'd like to learn more, read more about Arlo + Zapier, or book a demo with our sales team. 
Existing Arlo customers, simply reach out to your CSM to discuss how we can help automate your training management processes with integrations.