How to market your training program
Ultimate Guide [2023]
Introduction
If you're a training company, provider, or instructor looking to market your training program to increase your course registrations and sales, you've come to the right place.
Find everything you need to promote and sell your courses in this Ultimate Guide to course marketing for training providers.
Get ready to see your registration numbers go through the roof!
Chapter 1
Ways to drive more traffic to your website
---
You could be offering the best courses in the world, but it doesn't matter if no one knows how to find them. Driving more traffic to your website is a key part of any marketing strategy to help you sell more.
Here are some sure-fire ways to get more traffic to your website.
Start a blog
Blogs are a great way to market your training program. By adding a blog to your website and publishing valuable content that's relevant for your target audience you'll get a major SEO boost and increase traffic to your website. Try publishing a blog every two to three weeks for starters, and cover topics that would interest your target audience.
Topics could include:
Tasters of your upcoming courses
Tips to apply learnings from courses
Overview of industry standards, trends, and certifications
How to convince your boss that professional development is valuable
Case studies on course graduates
Thought leadership on industry trends, challenges and related topics
Google loves well-written, helpful, relevant and up-to-date content. That will go some of the way to ensuring your blog posts show up in Google search results. But to take it a step further and ensure your blog posts are appearing at the top of searches by your target audience, you're going to want to do some keyword research to find out what your audience is searching for online. To find out more, check out this in-depth Hubspot article on How to do Keyword Research for SEO.
The final step is to optimize your blog posts for SEO. There are a ton of plugins available to help you do this. For example, the Yoast Plugin for WordPress will analyze your content and tell you exactly where you can make improvements – from shortening your sentences to adding more H2 headings throughout your blog, to writing a solid meta description.
Get the Yoast Plugin for WordPress.
Start a YouTube Channel
YouTube is a great way to market your training program.
YouTube is the worlds second largest search engine and an important part of the Google ecosystem. It's a great way to reach new audiences, get in front of new prospective clients and funnel traffic to your website or database.
Create video content that's relevant to your brand and adds value for your target audience. For example, you could interview experts in your industry or share snippets of your course content to give them a sneak preview.
Thought leadership in industry media
By creating thought leadership content for external publications you position yourself as an authority and expert in your industry, create trust, increase brand awareness and reach new audiences. It also makes great content for emails to your database and to share on your social media channels. And a bonus? Backlinks on high authority external websites will give your own website a good SEO boost!
Don't overthink it – reach out with a simple, straight-to-the-point email to relevant industry publications, news sites, blogs and relevant local bodies to see if they are interested in publishing guest content. Pitch an idea that will add value to the reader, the publisher, and your training business. Write about something you know well, but make sure it's not a sales pitch. Provide plenty of links back to helpful, relevant content on your website, and if they allow it, provide a call to action at the end of the article that drives them to purchase a course.
Google Ads
Google Ads are a great way to market your training program by getting in front of potential customers when they're searching for courses. Ads appear at the top of Google's search results as "sponsored content" and millions of Google partner websites for keywords that are relevant to your course offerings.
It's a Pay Per Click advertising platform and the way it works is that you create ads, choose your specific simple or long tail keywords, and determine how much you're willing to spend per click. Google Ads utilizes an auction system that takes place in real-time that determines your placement and how many clicks you get on your ad.
Google Ads experts offer free help in this space, so it's worth setting up an initial consultation to see what could work for your business.
Find out more about Google Ads.
Course marketplaces
Online course marketplaces specialize in course marketing and lead generation and will help you advertise your courses at scale. Course marketplaces should play a key role in your marketing strategy to drive more visitors to your website. But let's not get ahead of ourselves – we've got a whole section on course marketplaces coming up in chapter 3.
Chapter 2
Five marketing strategies to sell more courses
---
If you're looking for effective ways to market your training program that won't break the bank, then read on.
1. Email marketing
If you already have a database of email addresses, then it's the best place to start focusing your efforts to market your training program. Email campaign tools are relatively cheap and easy to use – check out Mailchimp, Campaign Monitor and HubSpot. And most can be integrated with your existing Training Management Software, such as Arlo.
When creating your emails, make sure they are as targeted and personalized as possible – greet your customers by name, and only include content that's relevant to them. Experiment with various messaging and subject lines and measure the results to see what works best. Ensure the emails are on brand, and always ensure you have a clear call to action. Implement these simple tips and you will significantly increase your chance of conversion.
Arlo's CRM and automated emails will make your email nurture programs a breeze to create. With all customer information in one central hub, including course completion, location, level of qualification and more, it's easy to send automated, targeted emails to promote upcoming courses that are relevant to their needs.
2. Website marketing
Make your website work for you by ensuring it's set-up to help users easily find and enrol in your courses.
A good training provider website will have:
Easy navigation to courses from your homepage
A course catalog with smart filtering
Search functionality
Dedicated course pages with relevant information
Smooth registration and checkout process
The Arlo training management system comes with a website builder that can be styled to match your brand, and has all of the best-practice pages and web structure to help you sell more courses. You can also integrate Arlo with an existing WordPress website with the Arlo for WordPress Plugin. Either way, Arlo ensures your website is automatically updated with new course offerings in real time – no more manual entry.
3. Optimize your website for Google search (SEO)
With over 8.5 billion searches per day, Google search is a surefire way to get eyes on your courses.
To get ahead of your competitors in Google results and increase your organic website traffic, you need to be at the top of your search engine optimization (SEO) game. An easy way to get a boost in Google's search rankings is to make sure your business is showing up across the whole Google ecosystem.
First off, you'll need to create a Gmail account (if you don't already have one), to manage all of your business listings and accounts. This is free, and easy to do.
Create a free Google My Business account, and make sure you verify it. This will help you show up in Google Maps searches and in the local section of search results.
Sign-up to Google Analytics if you haven't already. You'll need to add a line of code to your website to complete the set-up, but there's plenty of advice online about how to do this. This will give you valuable insights into how your website is performing.
Sign-up to Google Search Console, and connect it to Google Analytics. GSC will give you insights into how your website is performing in Google's search results, and tips on how to improve your SEO.
Use Google's performance tool Lighthouse. This will give you a gauge on the technical health of your website, and areas where you can improve.
Create a YouTube account for your business and consider publishing short videos. These could be teasers about your upcoming courses, or short snippets of existing courses. We cover this more in the next section of this guide!
Consider Google Ads. These are the paid Ads, so there is an associated cost here, but it's a proven way to get to the top of search results and reach potential customers that are in buying mode. We'll cover this in more detail shortly!
Make your website sell for you. A well-designed and mobile-friendly training website and online registration will get you big points with Google, helping you get straight to the top of those search results. Using a known and trustworthy website platform, such as WordPress, is a good place to start. From there, you need to ensure your website is easy to navigate, with course catalogs and relevant filtering, page loading times are fast, and online registration and checkout processes are smooth and simple.
Learn more about Google Analytics in this step-by-step video tutorial on How to set-up and optimize GA4 for training providers. Covering everything from how to set-up GA4 and conversion events, to using advanced reporting to generate actionable insights for your training business.
How to set-up and optimize GA4 for training providers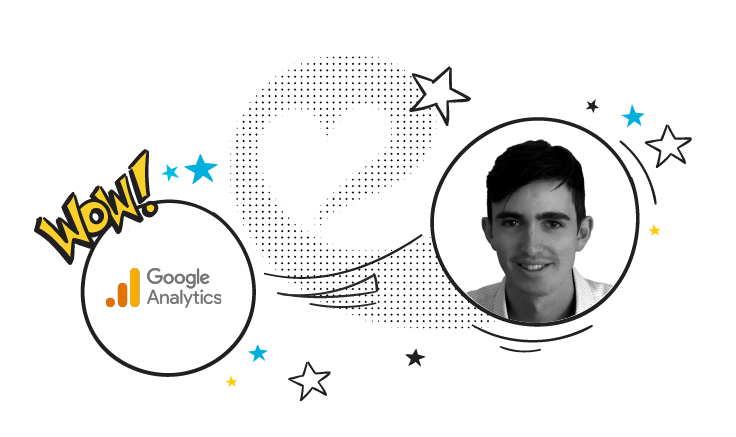 FREE GA4 consultation
Arlo's Professional Services team can help configure GA4 and set-up conversion events. Book a FREE consultation with a team member to discuss.
4. Social media marketing
Create business accounts for the leading social media sites – like, Facebook, Instagram, LinkedIn, X (formerly Twitter). Build a community by encouraging your existing customers to "like" your page and leave reviews.
Publish content regularly, including blog posts, upcoming courses, business updates and wider industry news (remember, the content you share doesn't always have to be your own!). Add a social share widget to your WordPress website and your courses and blog posts will automatically be published to LinkedIn and Facebook, automating the process for you.
Encourage engagement – by asking customers to share or like a piece of content, you'll increase your reach to new audiences.
If you want to take it a step further, consider paid advertising on social media. It's a relatively cheap way to market your training program with paid advertisements and you can target the ads so you're only paying to reach a relevant audience who is potentially interested in your courses. Use a conversion pixel to ensure smart remarketing and further optimize your spend.
Like Google, Facebook and LinkedIn also have free resources and experts to help you get up and running to market your training program on social media.
5. Referrals and reviews
Reviews
Encourage customers to leave you reviews after they've finished your course. It can be as simple as sending a follow-up survey asking for their feedback, which you can then publish on your website either as a quote or a case study, and share on your social media channels. Or, send an email to request that your customers leave you a review on Google, Facebook, or a course marketplace listing.
92% of individuals trust word-of-mouth recommendations, making it one of the most trust-rich forms of advertising. People are more likely to buy a product or service that has been recommended by a family or friend, and they're more likely to trust a brand that has positive reviews.
If someone is considering signing up to your course, a positive review may be the just the thing that gives them the final push.
Create a referral program
We'll say it again – consumers are more likely to buy a product or service that has been recommended by a friend or family member. That's a level of trust that no brand can ever compete with, so how do you tap into that? With a referral program.
Offer your existing customers a discount, merchandise, or some other reward for referring friends and family – such as an Amazon Gift Card. You can promote your referral campaign by email, and advertise the program both on your website and social media channels. Referral campaigns are a great way to market your training program. It's truly powerful stuff!
Check out Arlo's referral program for inspiration.
Chapter 3
Course marketplaces
---
Online marketplaces specialize in course marketing and lead generation and will help you advertise your courses at scale. Course marketplaces should be a key channel to market your training program.
Sites like findcourses.com and training.com.au are designed to help training providers promote and sell their courses. Having your courses featured here can be a great way to catch the attention of someone who's already in the market for some training. Interested buyers can search and filter by everything from topic, certification, region, industry and more.
These sites usually take a commission from each course that you sell, or they will charge you a fee to feature your course in their directory. Either way, having your course listed with these sites is a great way to ensure you're found by those who are actively searching.
Top course marketplaces
1. Findcourses
Findcourses.com is North America's leading course marketplace. Findcourses.co.uk is the UK version. Findcourses is an unbiased search engine where learners can find and compare courses from over 4,000 different training suppliers, filtering by category, format, place, delivery and more. They charge an annual flat-fee, which uncapped direct enquiries and referral traffic, making it easy to manage your marketing spend. Download the media kit to find out more about the course marketplace, and its costs and benefits.
2. CourseHorse
CourseHorse makes it easy to market your training program to a large community of learners interested in all types of courses across the USA. With more than 75k current active classes, and more than 1.7m monthly website visitors, there's a great chance you'll fill your empty seats when listing a course on CourseHorse. It's free to list your course, and CourseHorse only charges a fee when a student registers on your course. They also have a free email marketing program to help promote your course, and regularly share actionable insights and trends.
3. Reed Courses
Reed Courses works with around 1,000 respected learning providers in the UK to advertise more than 70,000 courses on a wide range of subjects; from accounting and HR, right through to fitness and cooking. Their website traffic is upward of 11 million every month, ensuring wide reach and a vast audience for your training course. And best of all? It's free to list your course.
4. Training.com.au
For Australian training providers, training.com.au is the country's largest course marketplace. The Candlefox-powered website allows learners to easily browse courses by subject, location, study method and qualification level and compare education providers. As well as lead generation, they offer other services such as provider dashboards, learner enrolment services and phone leads. Enquire with them directly about services, packages and pricing.
5. Coursesonline.co.uk
Coursesonline.co.uk is Candlefox's UK version of training.com.au. It is an education marketplace for providers of all shapes and sizes to advertise courses online and maximise student enrolments. More than 21,000 people have enrolled in courses via coursesonline.co.uk in the last 12 months.
6. Industry-specific sites
Look for websites that are relevant to your industry that list suppliers, training courses, partners and more. Your local chamber of commerce is a great place to start, followed by governing bodies, local business directories and even polytechnics. Many have course catalogues, or supplier directories, partner pages and referral programmes that could be relevant to your target audience. Don't be afraid to reach out and ask what services and packages they have to help you promote your business.
Chapter 4
Four ways to increase your conversion rate and average customer value
---
Increase conversion rate + increase average customer value = make more money. It's a simple equation, but not many businesses know how to master it. Here are four ways you increase both.
First of all, let's clarify what we mean by "conversion rate" and "average customer value"?.
Conversion rate: Conversion rate measures the number of users who converted as a percentage of the total number of users that visited your site. The higher your conversion rate, the more effective your website is at converting your visitors to customers. If 100 people visit your website in a day and 20 of those people enrol in a course, your conversion rate is 20%.
When we talk about checkout conversion rates, we mean the number of people who have started the course registration or checkout process but have dropped off somewhere during that process. These people show high intent to purchase as they went part way through the process of enrolling in your course, but for some reason or another they didn't complete the purchase.
There are a few ways you can improve that checkout conversion rate – we'll get to those in a minute.
Average customer value: The average customer value (ACV) tells you the average value that each customer brings to your business during a given timeframe. This is measured by taking the total customer value during a set timeframe (typically a calendar month or year) and dividing it to find the average value. As a simple example, if your customers always enrol on one course in a year, and all of those courses are worth $100, then your ACV is $100.
You've already spent money acquiring and servicing that customer – through advertising, the cost of technology (website, marketing platforms etc), administration etc, so improving your ACV is a smarter way to make more money, instead of simply acquiring new customers.
You can increase both your conversion rate and your average customer value with a few tricks.
Simplified checkout process
A complicated checkout process is a sure-fire way to lose potential customers at the final hurdle. Keep your checkout process as simple and streamlined as possible to improve conversion.
Here are a few tips:
Ensure your checkout only has the necessary fields and does not require extra information. The fewer steps in your checkout process, the better.
Remember visitors' details with autofill.
Allow for multiple registrants on the same course & multiple courses per order to reduce the pain of checking-out multiple times.
Use trusted payment methods but provide multiple payment options. Including debit and credit cards, PayPal, mobile wallets, and invoice, to reduce friction.
Use course registration forms that are customizable, on-brand, mobile-friendly, and integrated into your existing website. Arlo does all of these things, to ensure simplicity and continuity throughout the checkout process.
Abandoned cart email automation
An "abandoned cart" means someone has added a course to their cart, partially or fully registered for it, but not made it through to the checkout and payment stage. They may have forgotten to check out, distracted by another task, searching for a credit card to make payment, or simply still considering whether they want to enrol in your course.
Whatever the reason, abandoned cart emails can help increase your conversion rate by automatically sending a series of emails reminding people to come back and complete their course booking. You can include a reminder of the course they didn't finish enrolling in, a reminder of the benefits and key learnings they'll gain from your course, and even a discount code to encourage them to come back and make the purchase.
Marketing automation software like Hubspot can automate the process so you don't have to manually send each message.
Case Study: TEFL
See how the International TEFL Academy increased revenue by +340% with course bundles, marketing automation, an optimized checkout process and a simple tweak to processing fees.
Course bundles
Course bundles are a great way to increase your average customer value. A course bundle is a collection of courses, or courses plus extras, that are bundled together and sold as a package deal. Training companies might choose to break a course into multiple parts, and then pitch it as a package deal. Another opportunity is to up-sell an intermediate or advanced course to learners who've completed a beginner course.
For learners, course bundles are appealing because they're cost-effective – bundles usually provide a small discount. It also enables them to gain a comprehensive understanding of one subject or a variety of related subjects without having to go searching for more courses. And gives them the flexibility to pick and choose what options best suit them.
Certification renewal reminders
A big win for increasing average customer value is to remind delegates when their certification is about to expire. Customer records are stored in Arlo's in-built CRM and certificates are automatically sent once a course has been completed. With a simple set-up, Arlo can then send automatic reminders to your customers when their certificate is due to expire and they need to renew their certification, prompting them to book a course with you.
Chapter 5
Case study: Gowrie NSW
---
How Gowrie NSW drove exponential business growth with the right software and smart marketing campaigns.

Gowrie NSW's 34% sales growth
Australian-based The Kingdom is a HubSpot Diamond Certified Partner and software developer. Their team of sales experts, combined with app developers, work with business to improve their use of HubSpot to drive efficiencies and better results.
A non-profit-organisation founded in 1940, Gowrie NSW provides diverse education and care, family support and professional development services to the early and middle childhood sector across NSW and the ACT.
Gowrie NSW chose The Kingdom to find an deploy an integrated solution for their marketing, sales and CMS.
Gowrie was using a Frankenstack of technologies, with manual processes to process course registrations. Marketing was virtually impossible.
The Kingdom team moved Gowrie to HubSpot to address their CMS and CRM needs, helping them combine all their website portals into one. The Kingdom migrated all the website pages from Joomla into WordPress and then WordPress into HubSpot. They then integrated the solution with Arlo and connected it to a new Moodle Server hosted on AWS.
The Arlo eCommerce software was embedded into the HubSpot CMS to perform the purchase and subsequent registration of customers' courses. All the courses and commerce operations have data transacting between HubSpot and Arlo.
The solution:
Hubspot
Arlo
WordPress
Moodle
The result?
60% Increase in page views
45% Increase in online conversion
34% Increase in the sales
Read the full case study on The Kingdom.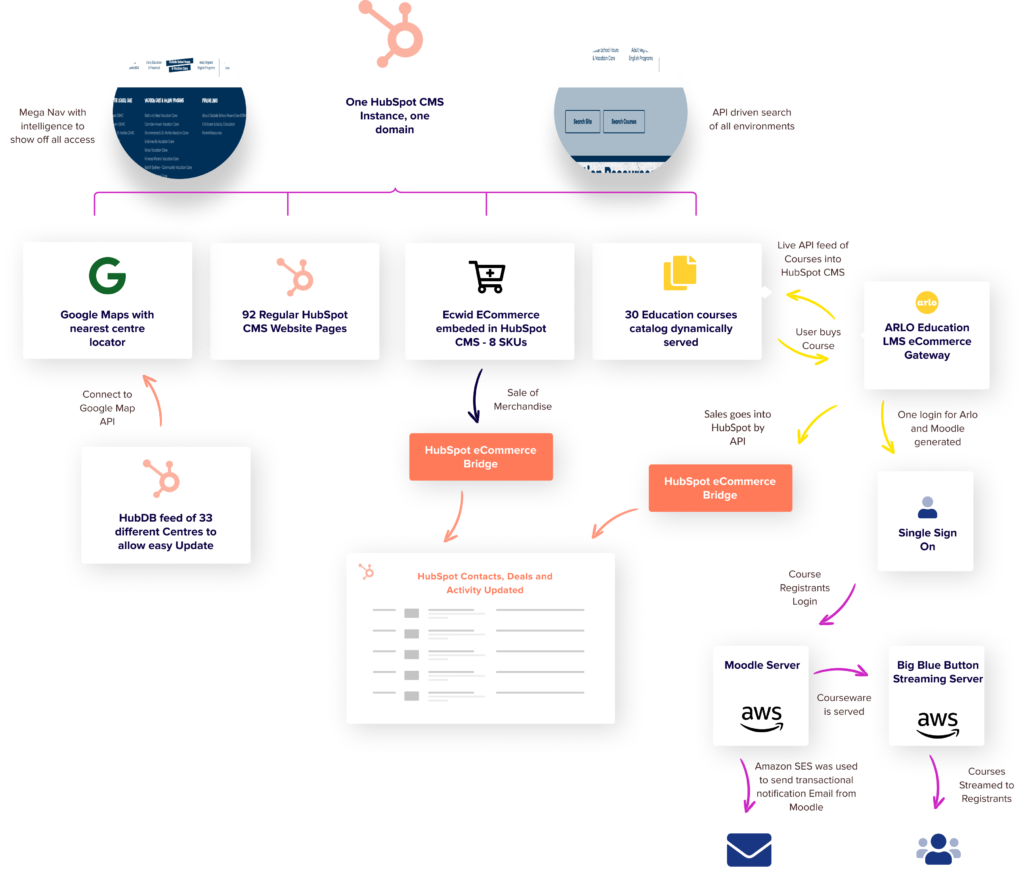 Chapter 6
Software to sell & market your training courses
---
We've done the research so you don't have to. Here's a round-up of the best software solutions to help you effectively market your training program and increase your registrations.
Arlo Training Management System
With customers in over 70 countries, Arlo is a global leader in flexible, powerful, purpose-built training management software. Ditch that maze of spreadsheets. Forget generic event management systems. Designed so you can streamline processes and grow your training business. Use Arlo's built-in website to start selling your courses today or seamlessly integrate Arlo into your existing website.

Arlo manages your training business from end-to-end so you can sleep easy.
It's a complete training management solution to promote, sell, and deliver courses and events.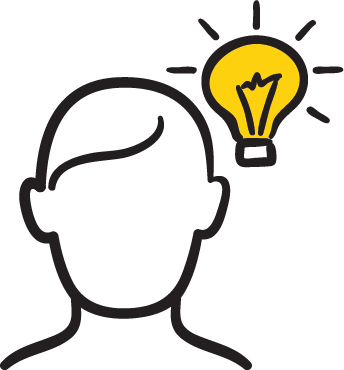 Ultimate Guide to TMS
Find out more about what training management software is, why it was created in the first place, and how one could help you transform your training operation.
Arlo's marketing features
At every opportunity, Arlo looks for openings for you to acquire more customers and grow revenue from existing clients. If you sell more, your business grows and that's what Arlo is all about. Arlo comes with a tonne of features to market your training program that do the heavy lifting for you.
Check out our top 5 marketing features:
1. Campaign management
Run targeted campaigns to promote a specific course or another service. Build prospect lists based on contact information and previous event attendance. Then create and send your email and track the results.
2. Lead management
Grow leads for public and private courses. Arlo's lead management feature allows people to register their interest in an event or course. When there are enough people interested, schedule the event and ask people to register. You can also capture interest for private courses.


3. Social sharing
Integrate Arlo with social media platforms such as Facebook, Twitter and LinkedIn. Arlo allows you to take advantage of social media to promote your training and events. Customers can share and like your training and events from your website across their favourite social networks. Drive traffic to your website, increase brand awareness and get your training and events trending online.
4. Search engine optimization (SEO)
Stand out at the top of Google search results. Arlo uses the latest SEO techniques to ensure that when someone goes looking, your website is found. For example, Arlo automatically sets your event summaries as SERP meta descriptions. Feature upcoming training and event dates as rich snippets in Google, including the event dates, title and location within search engine result pages (SERP).
5. Blended learning
Blended learning is a great way to create differentiation from your competitors in a crowded market, scale your business, increase course capacity and drive profitability. All of the results you'd expect from a good bit of marketing! Not sure what we're talking about? Learn more about blended learning and how it could help you sell training courses to increase the profitability of your business in the Ultimate Guide to Blended Learning.
Top marketing apps that integrate with Arlo
See how Arlo works with your favorite apps and web services to help you scale up your marketing efforts. Connect Arlo with tools you already use, or discover new ways to market your courses with these top 10 marketing app integrations.
1. WordPress
Arlo's native integration with WordPress makes it quick and easy to create an engaging website experience for your customers. Flexible designs are customizable to suit your brand. Data seamlessly flows between the two systems – including online course registration and checkout. Mobile optimization and enhanced SEO make it the most popular integration with our Arlo customers.

Check out some of these best-practice training provider websites powered by Arlo: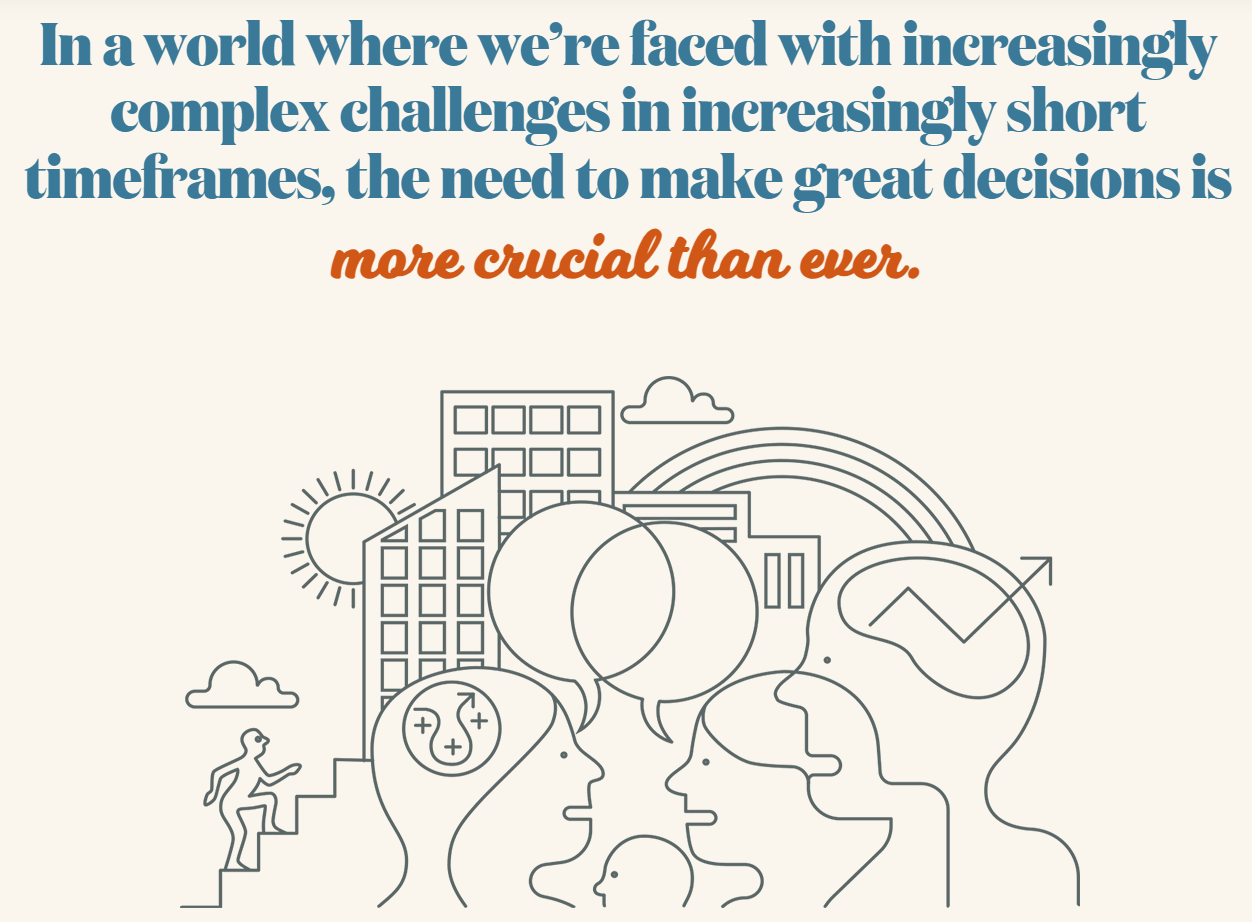 FrankCapability
Web Controls, Business & Finance
See their website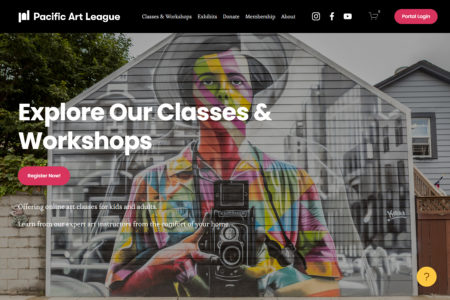 Pacific Art League
Web Controls, Teaching
See their website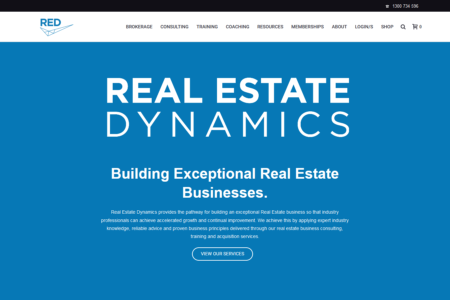 Real Estate Dynamics
Web Controls, Real Estate
See their website

2. HubSpot
Automatically send information between Arlo and Hubspot with the Zapier integration! Create new contacts in Hubspot from new contacts in Arlo, to keep all of your customer information up to date. Set-up triggers for new contacts, new events, new deals, new products and more so you can send personalized communications from Hubspot.

Not using HubSpot? Arlo integrates with all of the leading marketing automation platforms including Marketo, and more to help you market your training program.
3. Salesforce CRM
Arlo's integration with Salesforce combines the power of the world's best CRM and the market leading training and event management system. As a duet, it's the best salesforce event management solution out there. Access training and event information to run targeted campaigns from within Salesforce. For example, run a campaign targeting clients who have completed an introductory course but are yet to attend the advanced course.

Not using Salesforce? Arlo integrates with all of the leading CRM platforms including Microsoft Dynamics and more!
4. Mailchimp
Keep your email marketing lists and communications up-to-date with this Zapier integration between Mailchimp and Arlo. When a new contact subscribes to a newsletter or registers for a course in Arlo, it will automatically add/update a new Mailchimp subscriber. Then set-up automated communications in Mailchimp, triggered by actions in Arlo. For example, send an email to complete a survey when someone completes a course.
5. GA4
Integrate Google Analytics to find out what users are buying through your site; including information such as the transaction value, time to purchase, and the campaign that generated the most sales.
6. SurveyMonkey
With the SurveyMonkey integration you can automatically send feedback surveys after an event or course to gauge its success. Compare the relative performance of each course, the presenters, and the facilities used and use the data for continuous improvement. Publish positive feedback on your website and use them in your marketing campaigns!
7. Zoom
With Arlo's Zoom integration you can seamlessly sell & deliver training on Zoom. The benefit of using Arlo in conjunction with Zoom, is that Arlo looks after the e-commerce piece of the puzzle. Arlo captures registrations and payments on your website, while Zoom software delivers the training course.
Learning management systems (LMS)
With Arlo at the centre of your training business you're now ready to add an online course platform, or learning management system (LMS), into the mix so you can extend your course offering to blended learning.

Here are the top five online course platforms that are used by our training providers. All five integrate seamlessly with Arlo. Without an integration your two systems won't talk to each other, and you'll end up with a long list of manual tasks and a disjointed customer experience. To create the ultimate learning experience for your customers we recommend that an integration with your Arlo training management system is an essential requirement when choosing an LMS.
1. Moodle
Moodle is the most widely used and most powerful open-source learning management system in the world. The system provides all of the functionality you need to create and deliver eLearning for online courses, and allows users to extend functionality and integrate additional third-party solutions using plugins. One of those plugins is the Arlo for Moodle plugin. The plugin is completely free and well-documented, making the task an easy one for developers when it comes to integrating Arlo and Moodle.
2. Coassemble
Coasemble is an easy to use LMS that enables you to create online courses in minutes with its existing templates and drag and drop functionality. Arlo and Coassemble integrate via Zapier, with existing Zap templates that cover everything from enrolling an Arlo eLearning registrant in a Coassemble course, to adding Coassemble learner grades to an Arlo registration. To see how Coassemble and Arlo integrate seamlessly to deliver blended learning for your customers, check out this short video.
3. LearnDash
LearnDash is a WordPress LMS plugin meaning that it requires you to have a WordPress website to use the software. Reviews mention that it does require a developer, or experienced WordPress user, to set it up. We recommended working with Candle Digital who work with WordPress-based solutions, and can ensure your LearnDash LMS integrates seamlessly with Arlo.
4. Learnbook
Learnbook is a clean and simple LMS that pitches itself as "the world's friendliest learning management system". The LMS is supported by eCreators; global leaders in Moodle hosting and instructional design, and powered by Moodle, the market leading learning management system. This LMS is for you if you want an intuitive interface, with all the customization and reporting functionality of a more comprehensive LMS. Check out the recent webinar we did with Learnbook's Liam Liddicoat on blended learning.
5. TalentLMS
TalentLMS is an easy to use and easy to understand LMS that is perfect for creating basic eLearning content. You can start with a "forever-free" account, but once you add on additional features the cost is at the higher end when compared to other LMS in this list. One thing to note is that certification and reporting features get a bad wrap in Capterra reviews.
---
And that's a wrap! We've covered everything from the best ways to market your training program, ideas for budget-friendly campaigns, to tools and software. We hope you've found value in this Ultimate Guide!
Start a 14 day free trial
That's the theory done.
Now start a FREE 14 day trial with Arlo to put your plan into action!