Ultimate Guide to Virtual Training
Virtual training, remote training, webinars, live online. Whatever you call it, it's now more than ever learners are choosing this style of learning as an alternative to face-to-face.

Factors like Covid-19 and a rise in remote working have accelerated our desire for flexible learning. Are you moving with the market? Have you got the right software for virtual teaching?
Find everything you need to master virtual training in this comprehensive guide.
Chapter 1
Is virtual training the new normal?
---
Training has changed…
The concept of webinars and blended learning to deliver training courses has been around for a while now, and many training providers have made a quick shift to these online learning options in order to continue operating during COVID-19 restrictions. Now, more than ever, training providers are offering webinar courses as an alternative to face-to-face.
When COVID hit, Arlo had more than 40,000 courses scheduled in the system by their training provider customers. The majority of these were face-to-face, but the Arlo training management system already had the ability to create webinars, set-up webinars from existing events, sell recorded webinars and deliver eLearning courses with partner integrations such as Learnbook. Paired with the ability to transfer registrants from a face-to-face to a webinar course and send automated emails and SMS advising of changes, Arlo customers were able to adapt quickly.
And many did.
One Arlo customer, IRI Australia, traditionally offered face-to-face courses but was one of the savvy ones who worked quickly to move online. They prioritized courses that give them the "most bang for our buck", and also looked at their existing course materials to see what they could quickly and easily re-purpose for virtual education – for example, any existing videos or self-based materials. As a result, they saw a record number of registrations for their new live online webinar courses.
Similarly, Safe Beginnings Canada switched their regular face-to-face courses to live webinars via Zoom within a week of the pandemic being declared. The goal was to retain some of their existing registrations from the cancelled classroom courses and to keep their business operating through lockdown. What they didn't expect was that virtual teaching would draw registrations from USA and Europe – effectively expanding the business globally.
In summary, what we're seeing is that COVID-19 has completely changed the world as we know it, causing major disruption to many businesses. For the training industry, we can count ourselves among the lucky ones – we have a viable option in webinar, to continue operating during these challenging times.

How has the market responded to virtual education?
Analysis of our registration numbers here at Arlo show online learning is on the rise. In March, we saw a 285% increase in live online courses scheduled by training providers compared to the month of Feb, and that number is continuing to grow.
We're also seeing record numbers of registrations for live online courses, with 12,094 registrations in the first week of May compared to 1,488 in the first week of March, before COVID hit – an 800% increase!
The trend we're seeing here is that people are using lockdown time as an opportunity to learn, and upskill.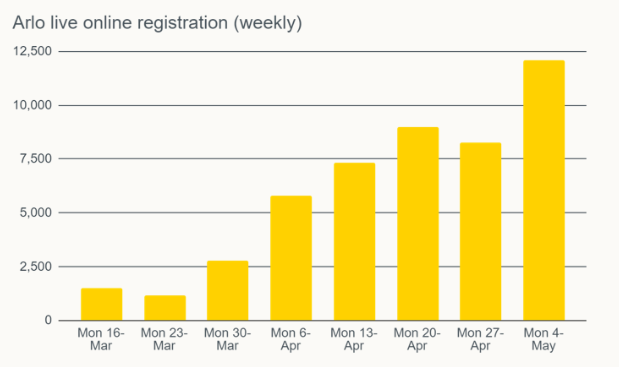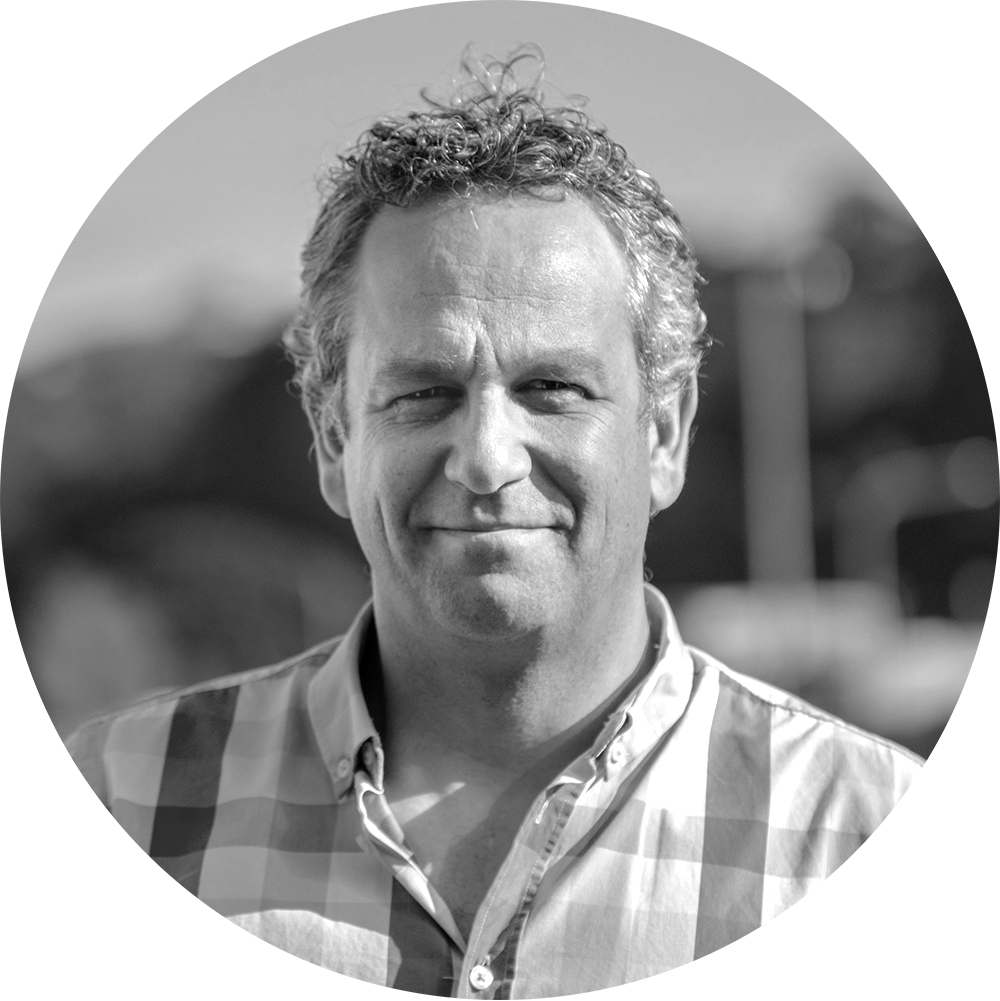 "The most heartening thing about these numbers is not that training providers pivoted quickly to offer live online courses, but that the market responded positively to the change."

– John Mitchell, CEO, Arlo
Google Trends data shows that searches for terms such as "virtual training", "online learning", "webinar", "online course" and "eLearning" have more than tripled in popularity in recent months, which in itself shows that people are keen to engage in online learning.
We can also thank Zoom for helping to prep the market for training providers, as the platform has become the new normal for work meetings, calls with family, and online learning. Zoom is seeing 300 million daily meeting participants in April 2020, compared to 10 million in December 2019 – a 30x increase!
One of our Arlo customers, Springhouse, swiftly announced that every single one of their instructor-led training programs would be delivered remotely after the COVID-19 regulations came into play back in March. And with many of their usual customer base working from home, they've had corporate clients reach out wanting to maximize on their employees' downtime with remote private training.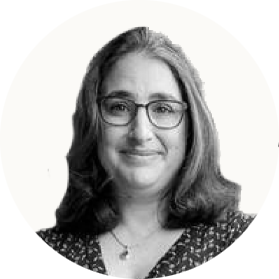 "Remote working is the perfect opportunity for employees to upskill via online training courses, as it may be less disruptive to business."

– Allison Dhuy, VP of Operations, Springhouse
Undoubtedly, COVID has helped drive the online learning trend, and history shows us that people turn to education in times of economic uncertainty – whether it be for up-skilling, offsetting the impact of job losses, regaining a sense of control or having more spare time.
But as we look to a post-COVID world, we can predict that the increase in remote and flexible working will have a permanent impact – training that adapts to work/life balance that will be key for those who are looking to study in the future – a watershed moment for virtual training.
Business and learner benefits of virtual training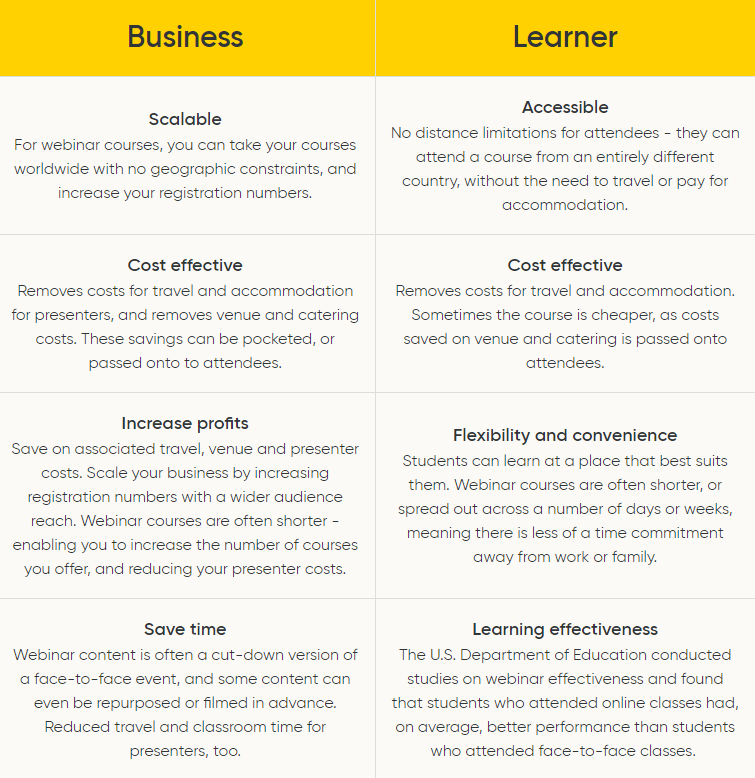 Chapter 2
Case studies: Pivoting to live online
---

True Relationships & Reproductive Health
How True uses Arlo + Zoom + Learnbook to deliver blended learning to health professionals.
As a Government-funded organization delivering essential training to healthcare professionals across Australia, it made perfect sense for True to invest in blended learning as an affordable and accessible learning option.
Finding the right software stack was a high priority, and in the end it was the Arlo + Zoom + Learnbook solution that met all of their requirements.
---
True Relationships & Reproductive Health is funded by the Queensland Government to provide reproductive and sexual health services and has an education team that delivers professional development for clinicians, as well as workforce development for many other sectors – teachers, early childcare workers, youth and social workers, allied health professionals and support workers in the disability sector.
Learning and Communication Systems Coordinator, Audrie Jurgens works with the team to support the creation and delivery of True's training, particularly in managing their software solutions to ensure a seamless delivery of training courses and programs to their clients.

Playing such an important role in the community, it is not only essential for True to deliver quality education, but also to ensure it is accessible and inclusive to all areas of Queensland regardless of location or availability – especially rural and remote regions.
This led True to develop a range of flexible self-paced and blended learning courses to add to their course catalog. However, True's IT systems and software hadn't been invested in effectively, and they were lagging behind when it came to digital delivery and capability. They knew they needed a new way to deliver their blended learning courses.
The ultimate solution? Arlo + Zoom + Learnbook.
Why Arlo as a training management system?
During a comprehensive discovery process, Audrie ruled out several training management systems because they were unable to fulfill True's requirements, before she found and implemented Arlo in February 2019.
"Arlo was the training management solution we didn't know we were missing. A key requirement for us was to be able to provide third-party invoices to our education customers and offer payment by bank transfer as well as credit card, and Arlo was able to do both right out of the box – no expensive custom development required."
True also needed a training management system that would be able to customize registrations and certificates by course; add custom database fields; sell face-to-face content as well as online content and a blend of both; and a CRM to facilitate marketing and communication for our training programs. Audrie says "Arlo does all of this with ease, and then some".
True already takes full advantage of many of Arlo's native integrations, including Zoom and Learnbook, and they're looking forward to automating even more manual tasks with our new Zapier integration – which Audrie describes as a "game changer" for training providers.
Why Zoom for their webinar software?
Zoom was True's webinar software of choice primarily due to its affordability and ease of use. And because Arlo has a native integration with Zoom, True can set-up webinar courses directly in the Arlo training management system, either as a new event or using a previous template, which Audrie says is "extremely easy".
The ability to schedule and run webinars with Arlo + Zoom has opened up distance education and counselling opportunities throughout Queensland and Australia, has enabled True to continue delivering education during COVID, and virtual teaching has helped to scale their business.
True has seen a 137% increase in registrations since March 2019, and their training revenue has increased during COVID.
Audrie also loves Zoom's audience engagement features such as polls and live reactions, as well the ability to record webinars and offer them as on-demand videos in Learnbook LMS.
Why Learnbook to host their eLearning?
True chose Learnbook because it was an affordable Moodle-hosted solution with a simple user interface.
Audrie says blended learning has been incredibly successful for True, as not only has it increased their revenue, but it has made their training courses accessible, affordable, flexible and within reach of everyone. It has enabled True to offer a richer, more immersive, and engaging training experience without requiring more staff, resources, or funding.
In terms of creating the content, True invested in training for internal subject matter experts and subscribed to Articulate 360 to utilize Rise and Storyline. With new skills in eLearning development, True's educators have been adapting face-to-face courses to blended learning courses featuring Learnbook online, anytime content – sometimes exclusively and sometimes in combination with face-to-face workshops or live webinars via Zoom.
"Articulate360, and Rise360 with its intuitive interface and beautiful, responsive finished product has allowed our educators to take on most of the content development with ease."
In addition to producing interactive, engaging SCORM packages with Rise, True utilizes Learnbook's offering of creating and linking other activities – quizzes, surveys, forums, assignments, podcasts, and on-demand video – to create a more robust learning experience inclusive of different learning styles. And the feedback from learners has only been positive, with many saying they appreciate spending less in-classroom time, being able to access the course and materials from anywhere at a time that suits their needs, on any device, track their progress in the course and perform follow-up activities at home.
Audrie believes that blended learning is the way of the future for training providers, well beyond COVID. For those just starting out with blended learning, Audrie recommends investing in a robust software stack such as Arlo + Zoom + Learnbook, and then adapting some traditional training materials to eLearning content. She says learner feedback is essential in the initial phase, and recommends using Arlo's Survey Monkey integration to link satisfaction surveys to Arlo courses, and then use the feedback to help evolve their catalog and content.

Panel discussion: Transitioning to live online training
In this webinar you'll hear from a panel of training providers who have moved their face-to-face courses online. Learn from IRI Australia, Selwyn Community Education, and Springhouse.
How they shifted their face-to-face courses to live online training

Ways to combat the challenges of operating with lockdown regulations

How their businesses have fared and whether there have been trends we can learn from

How they are using Arlo's remote training software
Chapter 3
Technical tips for virtual teaching
---
Here are some tried and tested tips from training providers to get your webinar up and running without a hitch. Please, don't be put off by the word "technical" – you certainly don't need an IT department to set-up a webinar.
Just follow these cues, and you'll be an expert in no time!
Use a trusted webinar platform
When it comes to options, there's plenty by the way of webinar hosting software. Let's look at the main players.
Zoom
GoToWebinar
Demio
Microsoft Teams
Google Hangouts
AdobeConnect
Skype
ClickMeeting
While Arlo works with all webinar platforms, Zoom is our preferred platform for webinar training software. We've picked this solution because it's secure, reliable and professional.
Although we recommend Zoom for webinar hosting, it's always important for your own business to assess each webinar tool against your requirements to ensure you've picked the right solution for you.
Get the right equipment
If you're looking at expensive cameras and tripods, or enquiring with professional videographers, you can stop right now. The good news is you probably already have all the equipment you need to host a webinar. And using your own equipment is safer than using new or specialist equipment – you're familiar with it, so it's easier to troubleshoot.
Here's what you'll need:
A laptop or desktop with a webcam (more reliable than a tablet or mobile phone)
Audio input and speakers (use a high-quality headset if you have one)
Reliable internet connection (if your wifi is spotty, use an ethernet cable to ensure your connection doesn't drop off)
A power cable. The last thing you want to do is run out of battery, so we recommend that you're plugged into a power source for the entire duration of your webinar.
Limit distractions
To create a truly engaging experience, you want to ensure there are no distractions throughout the duration of your webinar. If you're shifting a face-to-face event to a webinar, one thing you might consider is hosting it from the room or venue that your customers usually attend in person, to create some continuity and familiarity. If you're not hosting it from your regular venue, make sure you're set-up somewhere private and quiet:
If you're hosting from a meeting room at your office, make sure the room is booked out for the duration of the webinar, and with at least 30 minutes either side for set-up time and run-over time

Print a sign for the door of your room to let everyone know a live recording is in place. Ask that they do not enter and that they use quiet voices and footsteps outside

Make sure there are no loud noises that can be heard through the walls, such as printers, coffee machines or flushing toilets!!

Close windows to limit outside noise

Ask your presenter to wear plain clothing, as patterns can be distracting on camera. And ask them to limit or remove jewellery (it can create loud noise, be tempting to fidget with, create a visual distraction, and pick-up sun glare)

Check the room's lighting – you may need to open or close curtains, depending on the time of day, to ensure there's enough light.
Support tutors in the transition to online
For organizations who have traditionally delivered face-to-face training, a move to webinar will require a huge cultural shift. Like any major organizational change, some staff members will be more open to accepting it than others, some will adapt quicker than others, and some will require a little more help and guidance to order to make the transition.
We talked to two of our Arlo customers who had first-hand experience in transitioning tutors from a face-to-face to live online delivery. Here are their tips on change management and creating a supportive environment:
Anne Cave, Selwyn Community Education
Consultation has been key for Anne, as online learning is an entirely new way of life for Selwyn Community Education. Anne has been working closely with tutors to discuss which classes might be appropriate to transition to online, and which ones aren't. A couple of tutors have opted out of delivering their courses online, as they say it's "not my way of teaching", and Anne says SCE has respected their decision. The majority have been happy to adapt, and SCE has focused their time and energy on their transition. Tutors have been attending Zoom tutorials to up-skill on webinar software, and Anne has set-up a WhatsApp group to support and engage her tutors. "They're building confidence with each other – sharing tips and tricks", she says.
Margarita Sanding, IRI
IRI has been delivering a mixture of face-to-face and online courses for some time, and right from the get-go the organization had buy-in from all staff to deliver courses online.. Regardless, IRI still continuously works on expanding the technology skills of their tutors, and Margarita has been running internal Zoom training sessions and dry-run webinars to up-skill. She stresses the importance of the tutors knowing their software well, so when they're running a live online webinar they have a good handle of the tool and appear professional. The tutors also continuously meet to feedback on what they could adapt/change, and she's created a shared document for all staff on virtual training tips.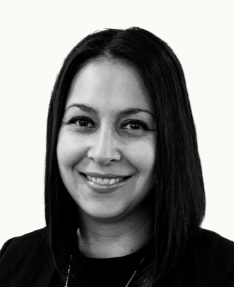 "Really get to know the tool you're using, so when you're running a live online webinar, you are at the forefront of the platform you are using. This makes it easier for your clients to adapt to this new way of learning and see the value in it."

– Margarita Sanding, IRI
TEST, TEST, TEST (and then test one more time)
Set-up a meeting with everyone who's going to be a part of your webinar and do a dry-run a day or two before (just not on the same day – give yourself enough time to fix any issues that you encounter). Run your test webinar as if it were the real thing, and check everything at least twice.
Test your internet connection
Test your audio
Test your visual slides, if you're using them
Test your power cables and check that your device is going to be set-up within reach of a working powerpoint
Ask any guest presenters to practice dialling in
Turn off all of your background apps and notifications, and check that there are no pop-ups or distractions during your webinar
Test any additional features you're using, such as polls, pop-ups, or live chat
Check your backdrop, lighting and camera angle
Join the webinar as if you were a customer yourself, and check that both the audio and the visual are of a high quality. Check that you can easily leave and re-join – your attendees may encounter their own internet connection issues and may drop-off
Record your test webinar and share it with colleagues – ask for their opinion on the quality of the audio and video
If you've promised attendees a link to the webinar at the end, make sure your webinar is set to record, and then practice accessing and sending the link.
Chapter 4
How to create an engaging webinar
---
Navigating the changes required to deliver in this new format is challenging – from learning new tools such as Zoom, to adapting existing classroom content to an online format, to training presenters on a new style of delivery.
But arguably the hardest challenge of all is ensuring that your learners are still getting as much value from a webinar as they would during a classroom course.
The key is keeping them engaged. Here's the recipe...
---
The magic number 60
As our Arlo training providers have made the switch from the classroom to live online, a common theme we've heard is you can't just take a 1 or 2 day course and magically deliver it over Zoom. Spending 8 hours in front of a screen is just way too long to hold a learner's attention – instead, you need to break it up into a number of short, high-impact sessions.

The magic number from our training providers was 60 minutes before providing an activity or short break to spark engagement.
The typical model for a Springhouse course is explanation, demonstration and then a hands-on exercise. Keeping that same model for virtual delivery works well, because it provides a content break by allowing students to do something hands-on. Other training providers have moved full-day or half-day courses to shorter sessions that are spread out across several days.
IRI Australia optimizes content to 90 minutes but is now looking to reduce it to 60 minutes, inline with best practice. "You will lose people beyond that", says Solutions Training Manager Margarita Sanding.
Features to foster engagement
The best webinar software has built-in features to ensure the audience is engaged.
Here's our pick of the best features to use to ensure your webinar is engaging enough that your audience isn't tempted to scroll Instagram, make another cup of tea, or click that pesky little "x" in the top right hand corner of the tab….
How do you host webinar Q&A sessions?
In a live classroom environment, your audience members are used to putting their hand up to ask a question. You can still encourage this, by encouraging them to raise a "virtual hand", but you might also consider regularly pausing your presentation for a dedicated Q&A segment to encourage your audience to ask questions.
Most webinar platforms allow you to focus in on particular attendees – as if the whole classroom was turned to give them their full attention.
How do you use webinar polls?
This is an awesome feature available with some of the leading webinar platforms, such as Zoom. Throughout your webinar, you can run polls asking questions relating to the topic you've talked about, to gauge how much your audience is paying attention and how much they're learning.

For example, you can run quiz polls on the topic of your webinar, or ask them on a scale of 1-10 how confident they're feeling about their knowledge of the content in the presentation so far.
How do you use webinar breakout rooms?
Again, in some of the leading webinar platforms such as Zoom, you have the added bonus of a feature called "breakout rooms". This allows you to organize your attendees into groups to discuss a topic, send the groups off into their own breakout rooms to discuss for 15 minutes or so, and then come back to share their collective thoughts and ideas.
How do you post a webinar survey?
With Zoom, you can ask learners for a simple yes/no response, or post a survey and view the results live. Use surveys to enable you to collect feedback from your learners to improve the course in the future.
What is the best webinar training software?
While Arlo integrates with all video conferencing platforms, including GoToWebinar and Demio, we recommend Zoom as our preferred platform for hosting. We've picked this solution because it's secure, reliable, fairly priced and professional. See Training Providers Guide to Zoom to get started.
Webinar-first content
You've heard of mobile-first. The term to describe designing a web experience for mobile, before desktop, due to its growing popularity.
So why not apply the same thinking to delivering courses? You heard it here first, the newest term in the training provider dictionary: webinar-first.
Simply taking an existing face-to-face course and delivering it via webinar in its existing format is not enough.
Good, relevant, expert content is the foundation of a great training course in any forum, but in a live online environment you've got other factors to contend with. You're competing with a lot more distractions in this environment, and it's much easier for your audience to switch their attention to something else, or even to get up and walk away. You need to create content that takes these factors into consideration.
Here are some tips for creating webinar-first content:
Define the most important outcome of the course. Focus on the content that will achieve this, and build around it. This is an obvious rule for any course, regardless of delivery, but it's even more important for webinar given the shorter time frame you have to work in.


Cut-it down. Take an existing face-to-face course and workshop it with internal stakeholders to see how it could be cut-down. What's adding the most value, and what's redundant. Have you added more and more to this course over the years? It's time to cut it right down.


Split the content into segments. If your course is a full-day, or longer, classroom course, look at the existing content to see how it can naturally be split up into segments. Workshop the content to ensure it can be delivered in a 60-minute long webinar, and then note how many webinar sessions you'd need to create to deliver the full course.


Shorten the course. Is the course still too long? Is it still covering too many topics? It's worth considering whether you could deliver it as multiple courses, with a focus on a specific topic. You'll make more money off multiple courses, and it will be less of an upfront time commitment for your learners.


Create engaging content. Use animation and video, and plenty of visuals like images, graphs and charts. Don't include too much text on slides. Use bullet points. Workshop where and how you'll use special features, such as polls to engage your audience. And make notes to check in with the audience regularly – to check if they're following along okay, or if they have any questions.


Decide on the best format. Is it a powerpoint presentation? Is it an open Q&A session? Is it a panel with multiple presenters? Can you use the breakout room feature to enable students to work together to solve a particular problem?


Use on-demand video. Look at your content that could be pre-recorded and served up as on-demand video for people to watch in their own time. This cuts down presenter time and costs, and adds flexibility and convenience for your learners. It's also proven to help with knowledge retention, as learners can watch it at their own pace, and revisit the content if they need to.


Use supporting materials. eLearning is a great addition to a webinar course as it allows students to complete sections of the course in their own time. It increases knowledge retention by reinforcing content from the webinar, and by provides further information that you may not fit into a short webinar. Short quizzes and exercises are a good supplement to hands-on activities that were previously done in face-to-face courses, and surveys enable you to collect feedback from your learners to improve the course in the future. Including a recorded version of the webinar is also helpful for students as they can re-watch the lesson at their own convenience.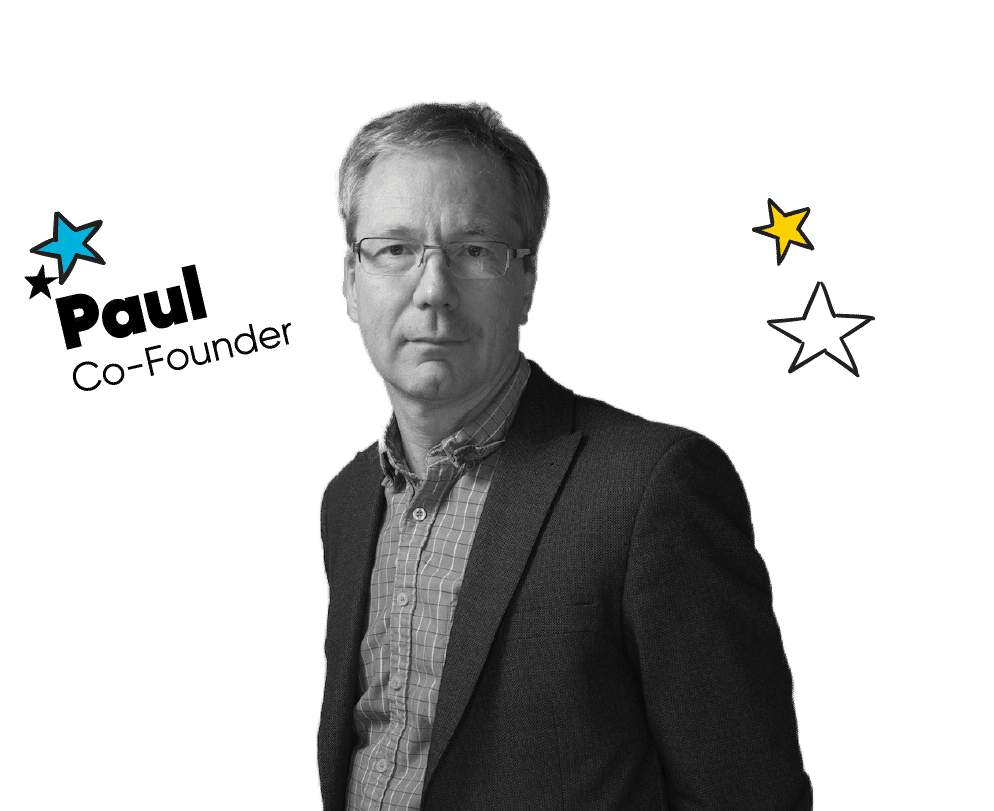 "Create engaging slides using animation, video clips, live screen capture or whatever else can make the subject come alive. Don't rely on a boring series of PowerPoint slides. And create a separate script to help you stay on topic and on time."

– Paul Naybour, Co-Founder, Parallel Project Training
Top tips from our training providers
Be organised. Any technical difficulties, running late to your webinar because of connectivity issues, poor lighting or poor sound quality are not only going to disrupt the flow of your webinar, they're going to make it a poor experience for your audience.


Be professional. Dress and present yourself as if you were presenting in a face-to-face environment. Sit up nice and straight. Speak loudly, clearly and confidently.


Create an engaging environment. Remove, or limit, any distractions from your environment, such as pets, posters and photos in the background, and loud noises outside. Turn your mobile phone off, and mute any desktop notifications such as emails and calendar reminders.


Support your learners from the moment they register. For Parallel Project Training's students, from the moment they register they can access downloadable content including self-assessments and practice exams, as well as printed study guides. For live online webinars, to cultivate a successful online learning environment, Parallel provides information to attendees on how to get set-up, including a YouTube video on how to setup Adobe Connect. If all else fails, they'll talk people through the set-up process over the phone to ensure that no one is left behind. 1:1 tutoring is also available for those who need additional learning support after the webinar course.
Arlo's new multi-session feature
Arlo's new multi-session feature, will ensure you can keep your business operating as well as keep your learners happy (by giving them learning options) and engaged (by keeping those webinar sessions short, and spacing them out). You could already manage multi-session face-to-face courses in Arlo, but now you can do the same with webinars.
Multi-session enables the creation of courses that are split into multiple sessions (6x 1hr live online webinars), have a choice of sessions (optional or mandatory as required), have a mixture of delivery methods (at a venue or live online), different presenters, or different prices – including optional extras. These multi-session courses can be run over a number of weeks, and registrants on these courses will be automatically registered for all mandatory sessions, and any optional sessions that they choose to attend.
For more information on how to create multi-session courses in Arlo, check out our support article.
Chapter 5
Virtual training software
---
We've done the research so you don't have to. Here's our round-up of the best software solutions to help you deliver top notch webinars for your training organization.
Training management system – Arlo
Arlo is training management software for training providers who want to save time and crush sales targets. It is a complete training management solution to promote, sell and deliver instructor-led, online and blended learning. Arlo takes care of your public training schedule, private in-house courses and ongoing training contracts, so you to manage your whole business in one system.
It saves you time by automating manual processes and helps you grow with slick ecommerce and marketing tools. Use Arlo's built-in website to start selling your courses today or seamlessly integrate Arlo into your existing website.
Our experts will ensure you get the most out of Arlo. For starters, our customer success and web teams manage your Arlo implementation, so you don't have to. You'll be up 'n running and pro users before you know it. Then our friendly support teams in London and New Zealand solve problems and answer questions 24/7. From project kick-off to business as usual, we are with you all the way.
Webinar software – Zoom
Zoom as you probably are aware, is one of the leading video conferencing tools on the market. It allows people to connect virtually from anywhere, across any device. This lends itself to running webinars and hosting online training perfectly for training providers. It's super easy to use and you can get going in minutes.
Zoom easily allows you to create connected environments from anywhere. Emulate classroom breakout sessions in Zoom. Allow small groups of participants to work on a topic, then pull everyone together and share the results. Use virtual whiteboards and chat messaging to facilitate the interactions.
So many of our customers are using our native integration with Zoom – to combine the webinar software with the Arlo Training Management System to help you sell more. We'll get the native integration hooked up for you, and the two systems will work together seamlessly – automatically sending data to and from each other.
Once it's set-up, it's intuitively easy to use Arlo and Zoom together – just create the webinar in Arlo, including the date and time, and Arlo will then use these details to create the Zoom meeting, including automatically adding presenters and support staff to the webinar. These details will be sent to registrants along with the webinar join link and webinar instruction emails. Check out our support article for more on this.
Arlo + Zoom = an elegant solution for running your online course.
Integrations – Zapier
If you find an all-in-one platform that ticks all your software requirements, you've hit the jackpot. Realistically, you're going to need to integrate multiple software applications to ensure your business runs smoothly and you deliver a seamless customer experience.
Cue Zapier.
If you've never heard of Zapier, in a nutshell it's an online automation tool that can connect Arlo with your favorite apps, such as Outlook, Gmail, Mailchimp, and more. You setup 'Zaps' by combining Triggers and Actions that do different tasks.

So when an event occurs in Arlo (such as a contact being created) the trigger will fire and automatically send a set of data to Zapier. Zapier can then transform or filter this data and send it on to the other piece of software. All this happens in a split second. Cool huh.
For example, if you use Mailchimp to send newsletters to your email database, you can use Zapier to keep your email marketing lists up-to-date. This integration helps when a new Arlo contact subscribes to a newsletter, it will automatically add/update a new Mailchimp subscriber. It's never been easier to update your email lists.
Arlo is the only training management system that integrates with Zapier.
Well, look at that… you're at the end of our Ultimate Guide to Virtual Training and you're now a pro at hosting webinars. Nice!
Interested in learning more about blended learning for training providers? Check out our Ultimate Guide to Blended Learning.