Training & course booking system
Forget basic online forms. Ditch that maze of spreadsheets. Switch to Arlo: a powerful, purpose-built course booking system. Arlo was built for training providers who need to scale. It includes all the tools to accept and manage course bookings, plus a whole lot more. Arlo's training booking software keeps you organized and automates back-office processes, freeing you up to focus on course delivery and business growth.
Manage bookings for recurring events, workshops & seminars
Arlo makes scheduling and managing courses that re-run on multiple dates and locations easy. In a couple of clicks a new course instance can be scheduled and live on your website. Sit back and let your event booking software do all of the heavy lifting!
Customizable course booking forms
Arlo's training registration software includes a flexible registration form builder so you can create forms that capture the information you need and take registrations for optional sessions and upsell customers with optional extras.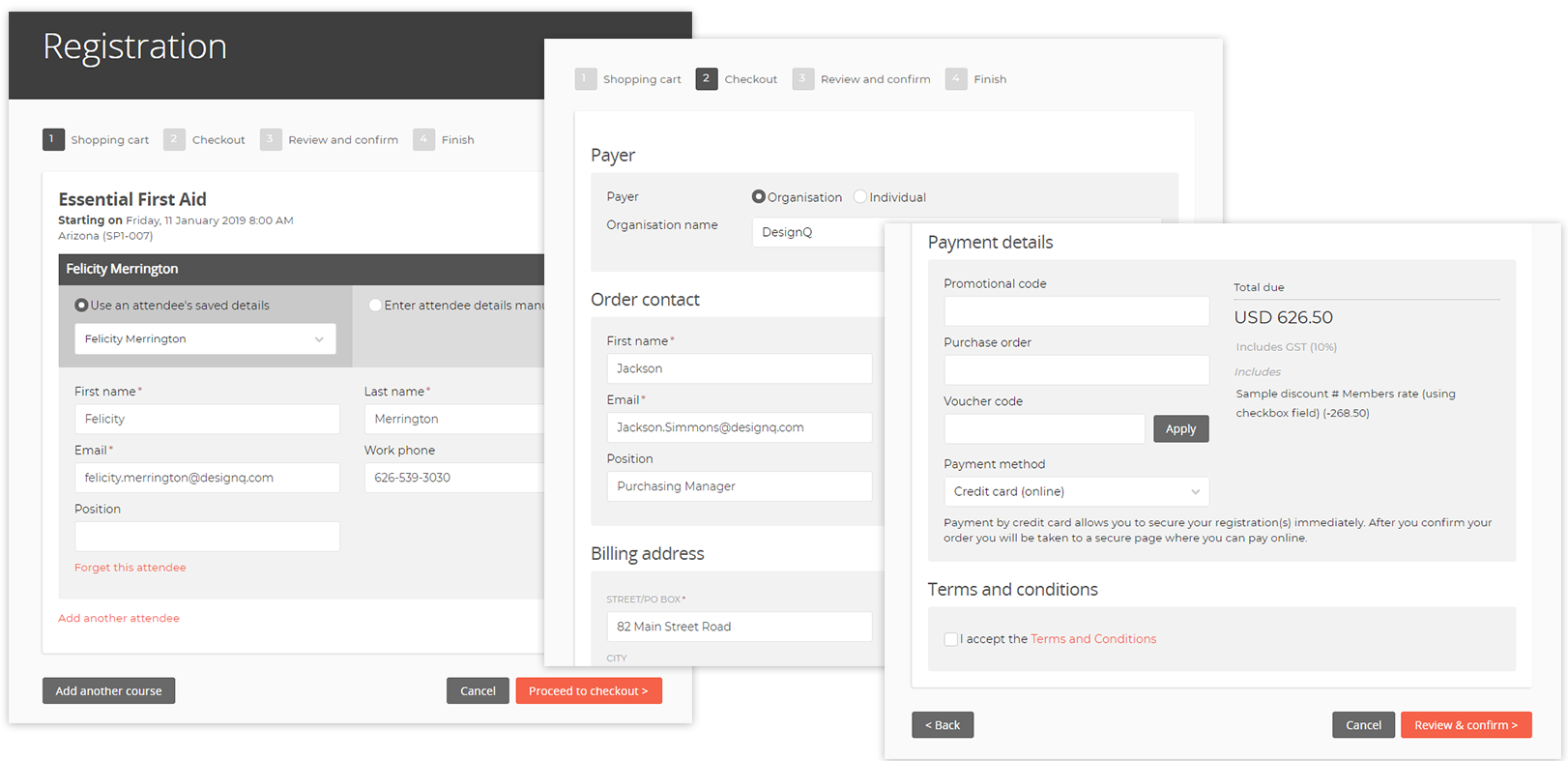 Credit card & invoice
Flexible payment options
Accept payments for course bookings by credit card, invoice, bank transfer, and cash. Select from a range of credit card payment gateway and merchant providers including Stripe, Paypal, Windcave, Authorise.Net and ANZ eGate.
Partial payments & deposits
Make it easy to pay in pieces
Don't let upfront payment be a barrier to purchase allow your customers to pay partially overtime. Collect a deposit in your checkout and then collect the rest later. Track how much has already been paid, what's left outstanding, and what has been fully paid off.
Transfers, cancellations and refunds
Transfers made easy
Arlo manages all aspects of transfers, refunds, and cancellations for you. It creates and issues credit notes, sends notifications to everyone involved, and reverses credit card charges where required.
Automated emails
Never send another email
Once bookings are made, all communication is automated, including webinar or venue instructions, payment receipts, reminders and feedback surveys.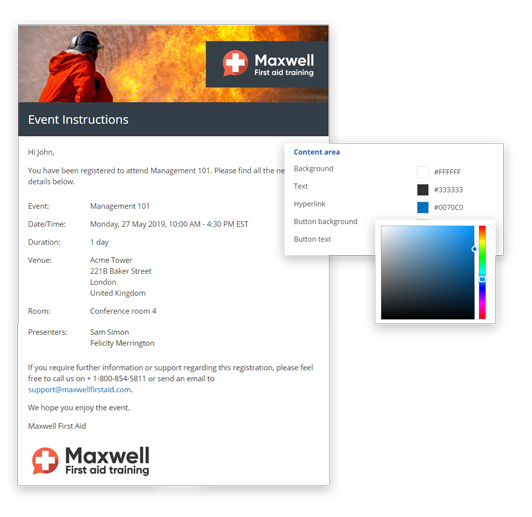 Website integration
Create beautiful web experiences
Arlo's smart technology lets you create a high-quality training provider website. Use our free website builder to start selling fast, or integrate Arlo into your content management system for a seamless experience for visitors.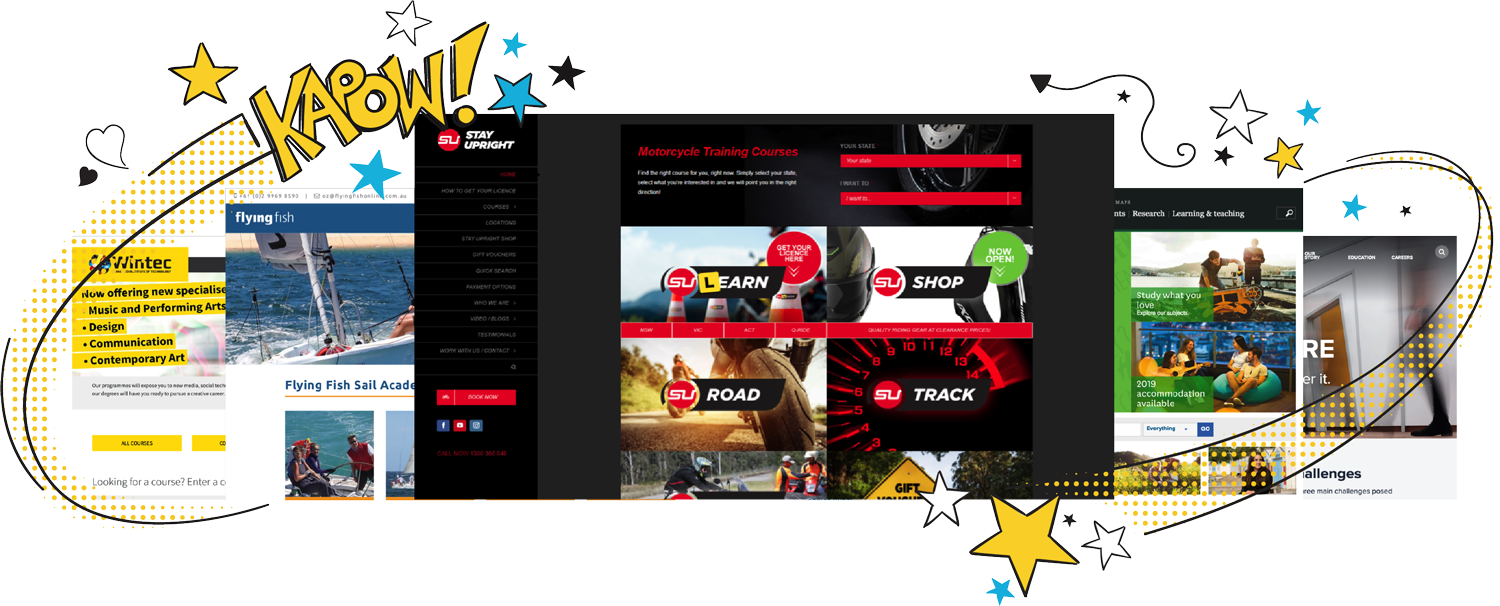 Everything you need
Arlo is way more than a course booking tool. It's a training company system to manages your business from end-to-end so you can sleep easy. It's a complete solution to promote, sell and deliver courses.

Course Management

Live Online

Elearning

Website

Online Registration

CRM

Marketing

Certification & Licenses

Finance & Invoicing

Customer Portal
Delightful experience
Your team will love using Arlo's course management tool. Every feature is designed to make their day easier and your customers happier.
See it action
Watch this quick overview of Arlo's course booking system features, then explore our other tools.
How does Arlo's course booking system work?
Let's walk through the lifecycle of a training course…


Schedule your courses
Easily schedule your calendar of courses in Arlo. Course templates and pre-sets automatically pre-fill information making scheduling courses that re-run on multiple dates easy.


Publish them on your website
Use our drag-and-drop website builder or connect your existing website to Arlo so when you schedule a course, it's automatically published on your website.


Accept and manage bookings
Learners can register and pay for your courses right from your website. You can create custom forms that capture the information you need and even upsell your customers with optional sessions and extras.


Automate communication
All course-related emails are automated. Including order confirmations, invoices, course instructions, and pre-reading material.


Deliver your courses
Run face-to-face courses or live online webinars. Make it blended with multiple sessions or eLearning activities. With Arlo, you can introduce new ways to teach and learn.


Certificates, surveys and more
Once a course is completed, Arlo can automatically send personalized certificates to those who passed, send feedback surveys, and invite registrants to attend your next related course.
Common questions
What is a course booking system?
Course booking systems are used to collect course booking on your website. It's likely to include course scheduling tools, customizable booking forms and credit card payment facility. Some software goes further by allowing a richer ecommerce experience, accepting other forms of payment (eg. invoice), and automating course management processes – such as reminder emails, waitlists and course transfers.
Who uses course booking software?
1 Training providers who regularly deliver the same courses, multiple times and need an efficient way to manage the involved processes
2. Internal training providers – training people who do not pay to attend a course, for example upskilling your staff
3. External, commercial training providers – training people who pay to attend a course
4. Training companies who offer blended learning courses – encompassing face-to-face, live online, eLearning – and need an efficient way to package this up
Do I need a training booking system?
If you run more than 2 or 3 training courses per month, you probably need a course booking system. Yes, you can manage course bookings manually with a simple online booking form that sends you an email, but this solution doesn't scale. Training booking systems save you time by collecting registrations and payments for specific course dates, and automating follow-up tasks like sending emails. Ultimately, training booking software saves you time by eliminating manual administration.
Can course booking software run my training business?
Some solutions go well beyond simple course scheduling and booking. Known as training management systems, they manage all aspects of your business. They can power your website, capture bookings and payments, automation follow-up tasks, report on performance, and integrate with your other business systems.
How much do course booking systems cost?
From $25 to over $1,000 per month. Arlo starts at $99 per month plus $2 per registration – view the pricing.

But don't take our word for it
Try Arlo yourself: 14 transformational days, free.