Live online (webinars)
Easy Virtual Training Platform
Managing virtual training should be as easy as delivering it. Arlo's multi-session webinars, simple registration process and powerful integrations take care of the admin so you can focus on delivering great training.
Multi-session courses
Easily manage & repeat webinar series
All-day webinars don't work, but splitting it up leads to more administration right?
Our multi-session feature makes it easy to manage multiple short, high-impact training sessions in a single course. If you run it regularly, click 'schedule another' to copy it to a new date in just a couple clicks.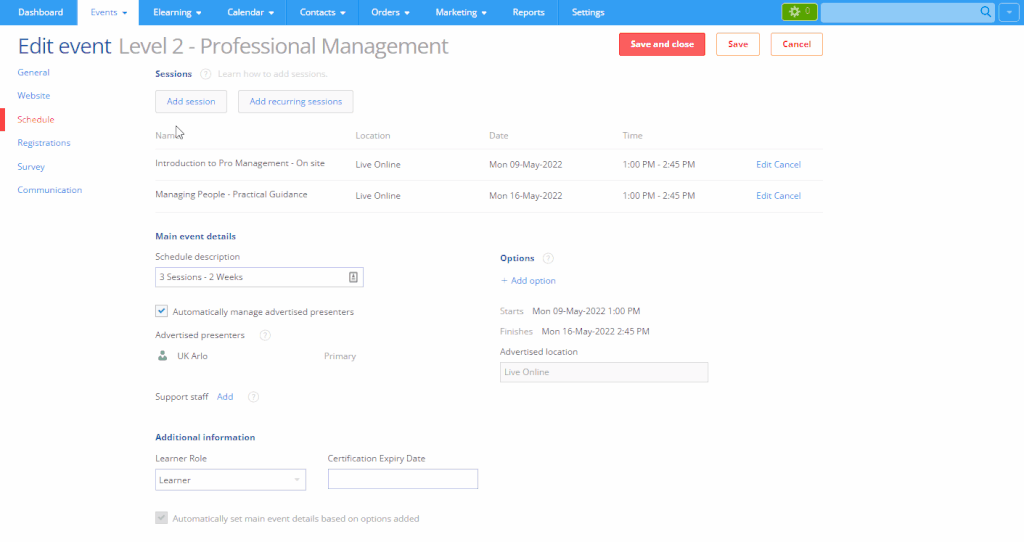 Native Zoom integration
Eliminate Zoom administration
You'll never copy and paste a link again once you've connected Zoom to Arlo. Simply choose your host and date, and Arlo takes care of the rest. It automatically schedules the session, adds the join links to emails, and handles any changes you make.

Other Integrations
Not using Zoom? No problem!
Arlo integrates with all leading web conferencing tools – Microsoft Teams, Webex, GoTo and more.

Attendance tracking
Focus on training, not tracking
When a learner joins your Zoom call, their attendance is automatically recorded in Arlo. From there, you can use it to trigger automated workflows like issuing certificates and sending follow-up information to attendees.

Course registration
Simple booking forms
Buying a course shouldn't be hard. Stop struggling with web forms, Arlo has all the tools to accept registrations, payments and invoices
Create customised booking forms for your courses and set the payment methods you want to accept. Allow customers to add multiple registrations to a single order, record a key contact, and bill the order to an individual or organization.
Free resource
Ultimate guide to virtual training
The demand for live online, flexible learning is on the rise. Now more than ever learners are choosing virtual training over traditional classroom-based courses. In this comprehensive guide, you'll find everything you need to master virtual training – from the right software, to tips for engaging your audience.
Ready to see Arlo in action?
Try Arlo's virtual training platform for yourself: 14 transformational days, free.