Create beautiful web experiences
Arlo's smart website technology lets you create awesome looking websites.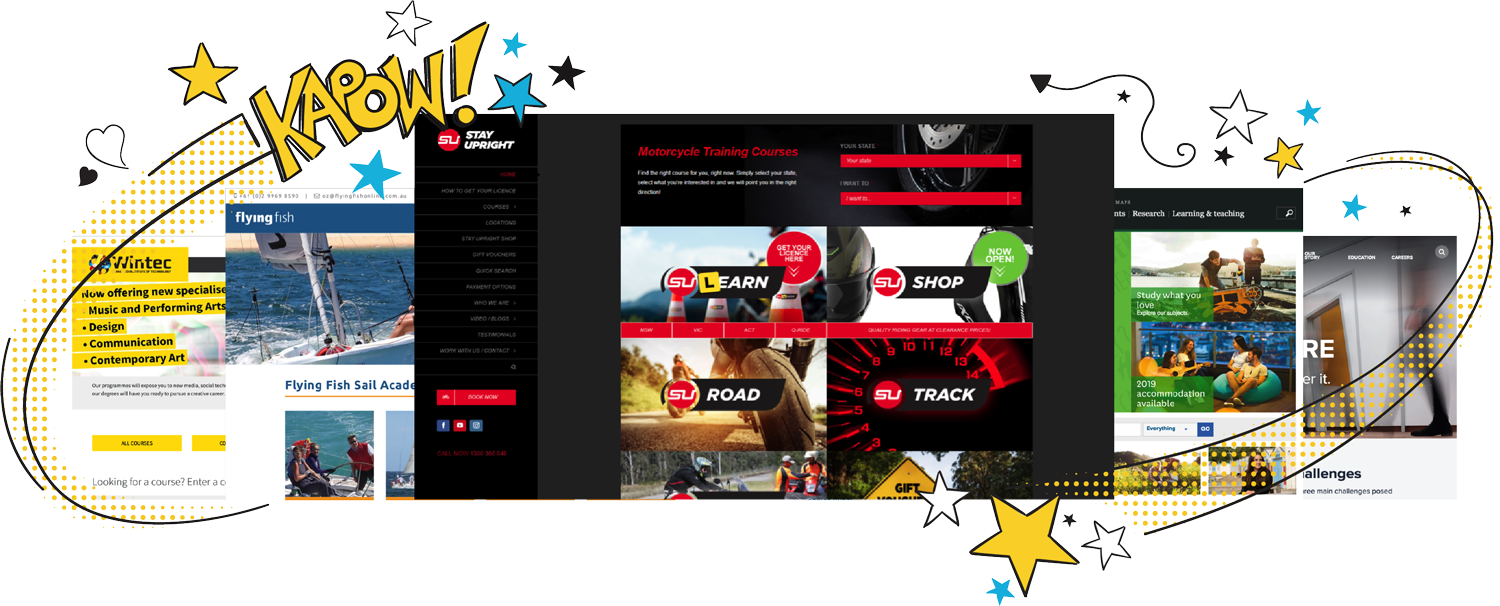 Save time
Never update your website again! Arlo powers your website content, so when you change a course in Arlo, your site is automatically updated.
Reduce costs
Get an awesome training website for a fraction of the cost. Don't labor over a bespoke site – we've done all of the hard work for you.
Be found
Stand out at the top of Google search results. Arlo uses the latest SEO techniques to ensure that when someone goes looking, your website is found.
Grow sales
Grow registrations with a website designed just to sell training. Make it easy for visitors to find the courses they want, then take payment right away.
Website options
The choice is yours…
Need a website? Use the built-in Arlo Website. Already have a website? Integrate Arlo using Arlo's powerful web technology and deliver a seamless experience for visitors.

Arlo website
Use our easy to use website builder that can be styled to match your brand. Start selling fast.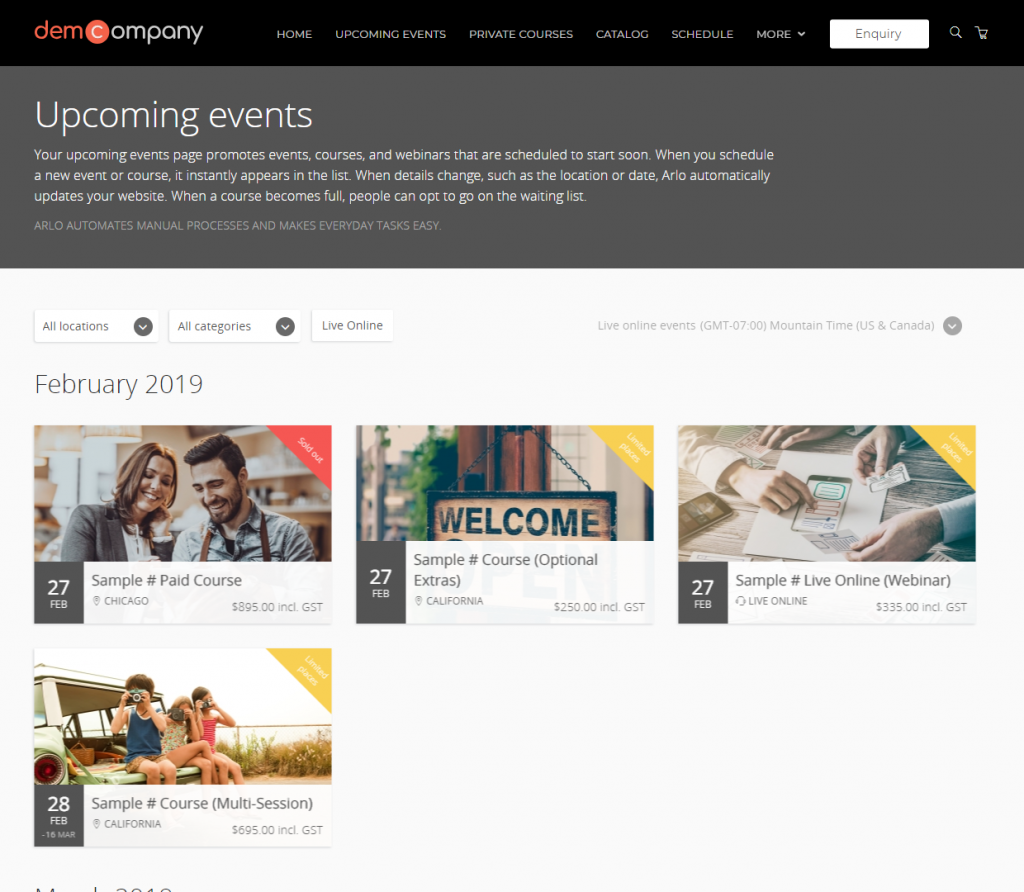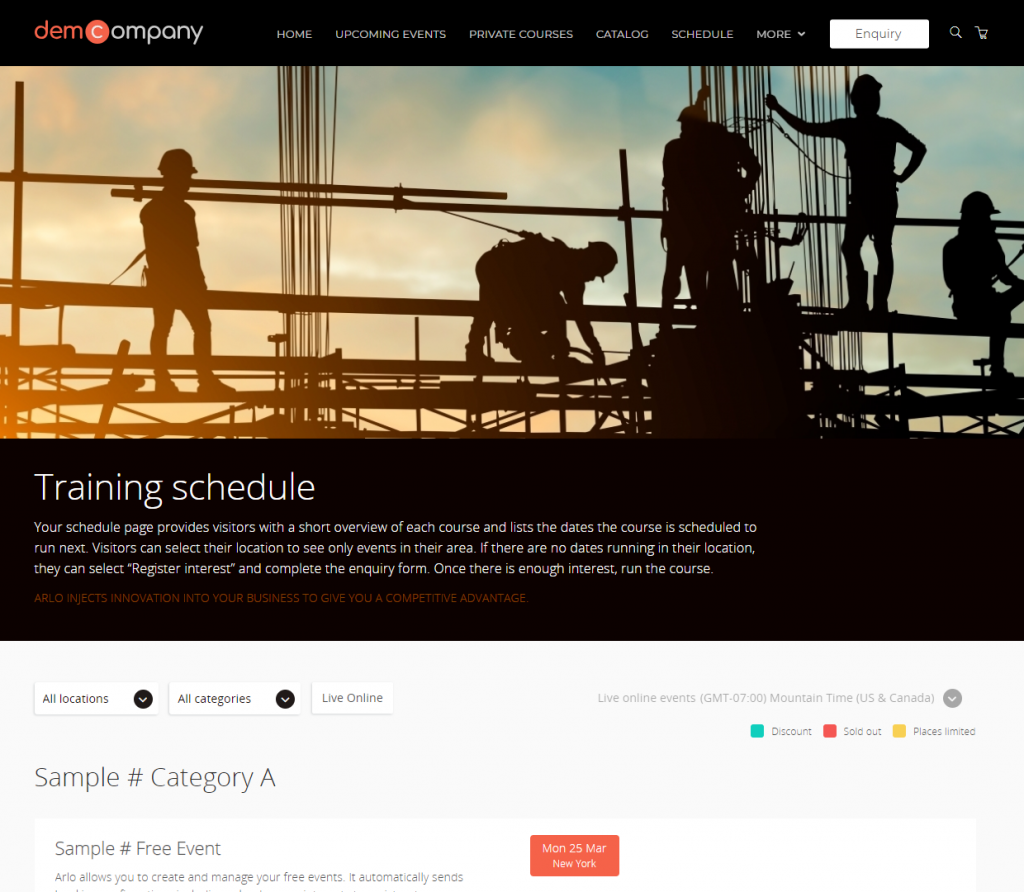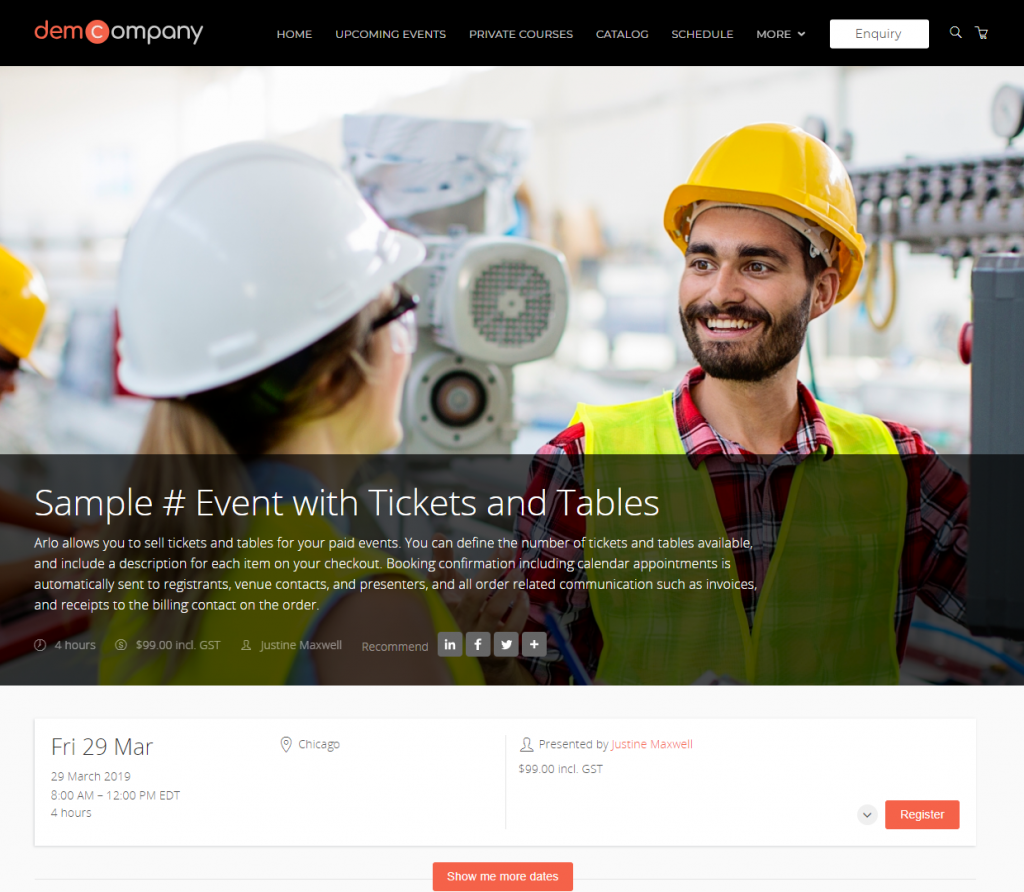 Your website
Integrate Arlo seamlessly into your existing website. Choose the technology for your site.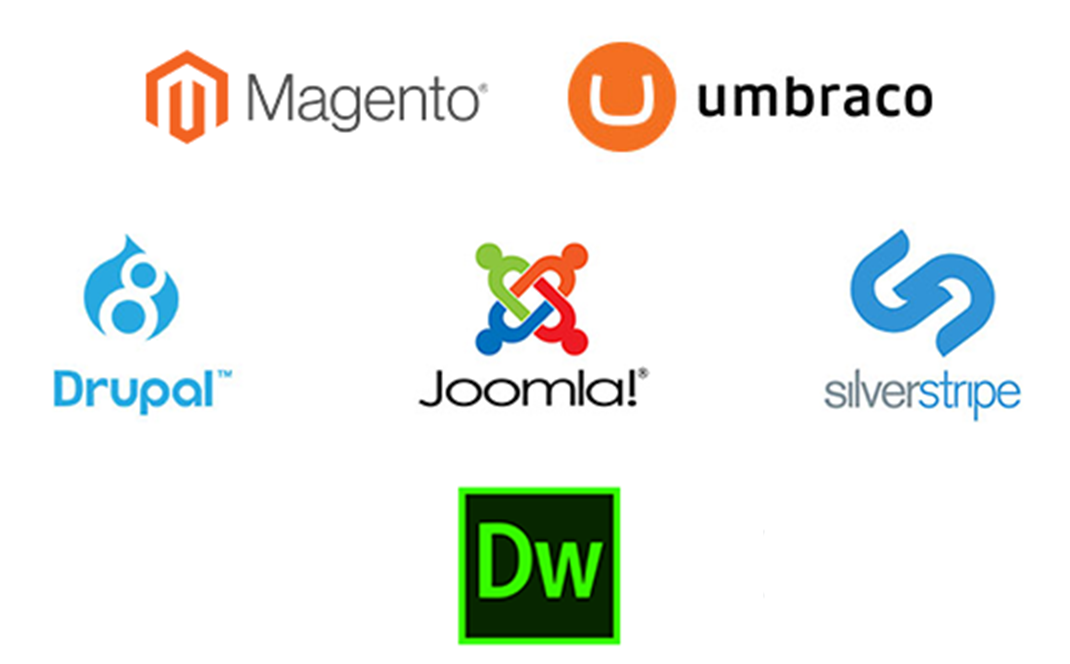 WordPress Plugin
Running WordPress? Cool, use Arlo's powerful WordPress plugin.

A library of pre-built webpages & widgets
Access a full range of pre-built pages and widgets, designed specifically for training provider websites, and available across all Arlo web technologies.
Web Controls
Arlo lets creative people build cool websites
Create great looking website pages in no time with Arlo's powerful web controls technology.

Choose a web control
Choose a web control from the Arlo web control library.

Configure functionality
Customise filters and functionality by editing the code.

Style to match
Style the control to match your website using CSS.

Add to website
Embed the control onto a website page by adding the code from CodePen.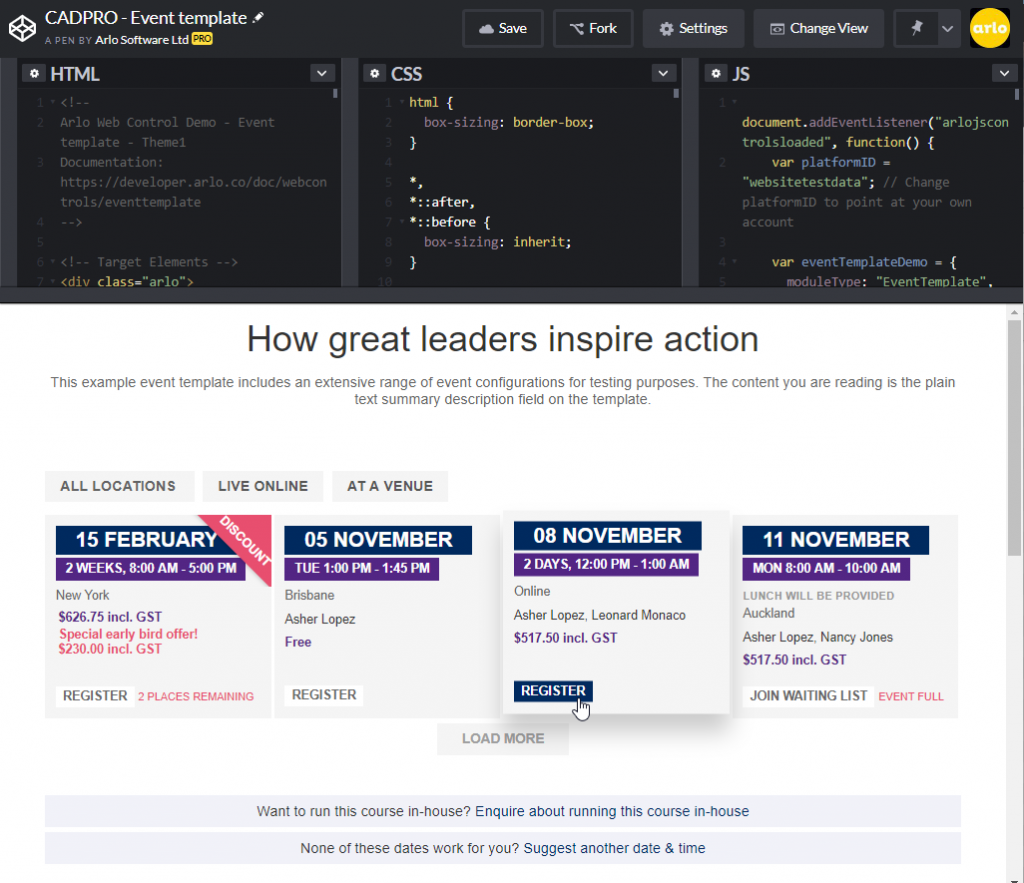 WordPress plugin
Using WordPress? We have you covered
The Arlo for WordPress plugin has been built with web developers and designers in mind. Prebuilt Arlo themes make it easy to install, while the extensive range of shortcodes offer maximum flexibility.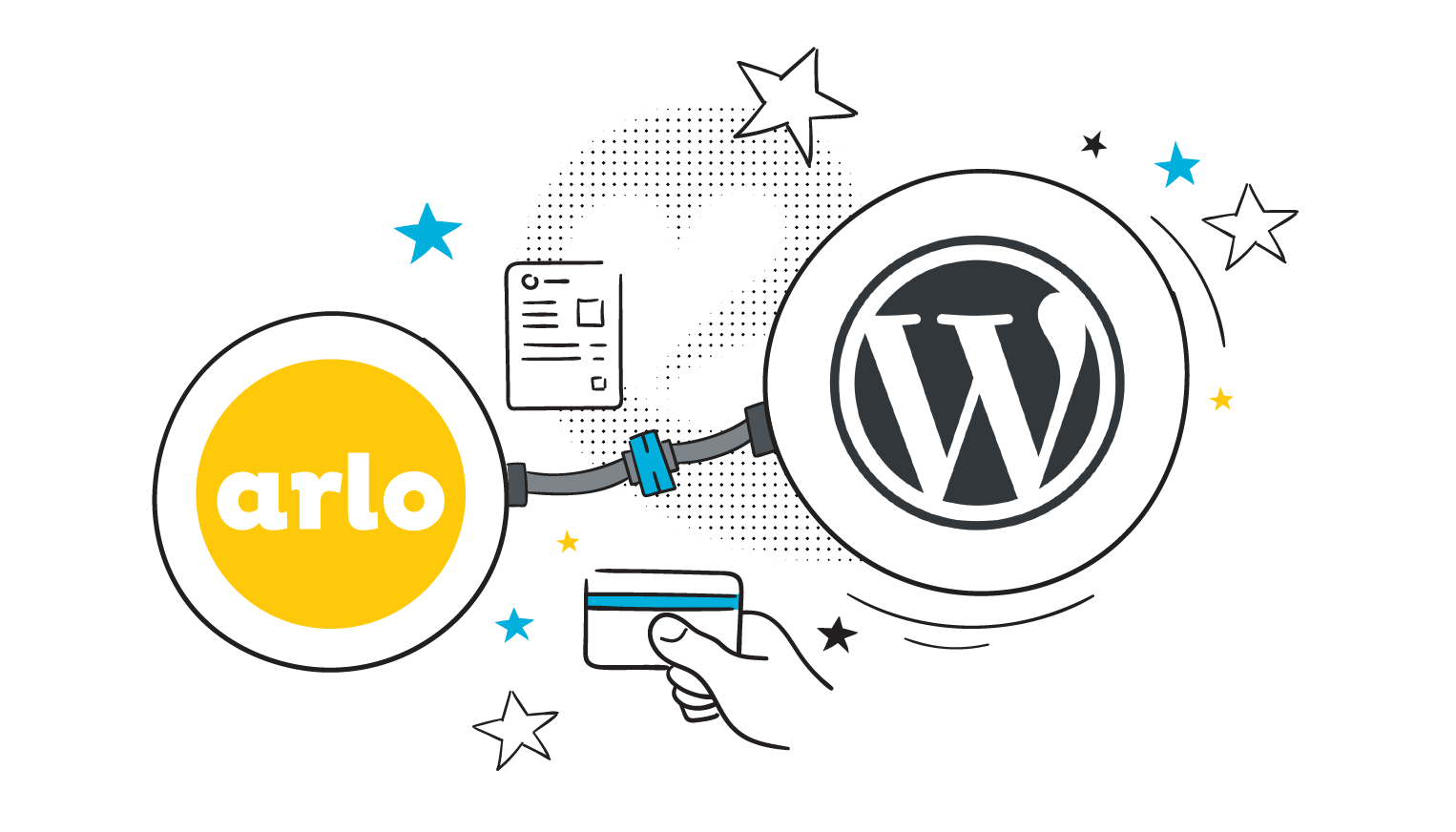 Social media
Amplify your message
Our social sharing features make it easy for your website visitors to share your courses on Twitter and Facebook. In just a few clicks, add a "Like" or "Tweet" button to your website and your courses are ready to be shared over social and reach a wider audience.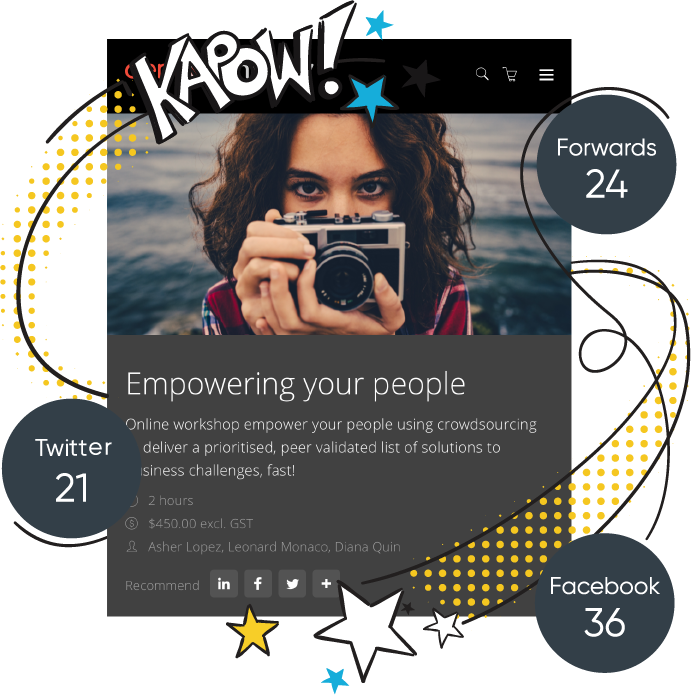 Professional services
Our people are your people
Our web team has successfully managed over 100 web integrations for training organisations just like yours. We know our technology intimately and work to a proven methodology, so you'll get a high-quality, fast and cost effective solution. From project kick-off to go-live, we are with you all the way.

Ultimate guide
How to optimize your training provider website
This comprehensive guide will outline practical ways to create a high-performing website.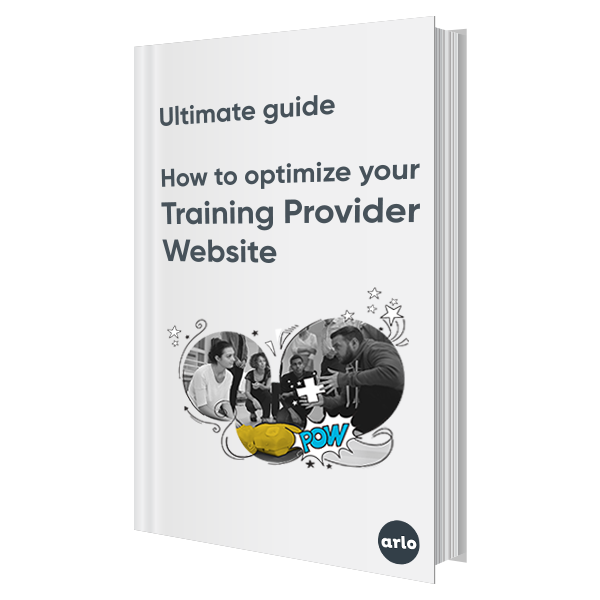 Other features
Search engine optimisation
Feature upcoming training and event dates as rich snippets including the event dates, title and location within search engine result pages (SERP). Arlo automatically sets your event summaries as SERP meta descriptions.
Multi-region support
Multi region, currencies, tax rates
Manage training and event programs that span across multiple counties. Support regionalized content with different currencies, taxes, and time zones.
Learn More
Conversion tracking
Track conversions in Google and Bing, allowing you to use e-commerce reports to analyze purchase activity on your site. You can see product and transaction information, average order value, e-commerce conversion rate, time to purchase, and other valuable customer activity.
Learn More
Google Analytics integration
Integrate Google ecommerce tracking to find out what users are buying through your site; including information such as the transaction value, time to purchase, and campaign which generated the sales.
Learn More
Online registration
Accept and manage online registrations, payments and invoicing with Arlo's powerful e-commerce solution.

Learn More
Transform your training website
Try our FREE 14 day trial.