Tell your network about Arlo and earn rewards!
Know someone who's up to their ears in manual administration? Is looking for a way to manage their training operation and grow their business?
Simply tell your professional network about Arlo and we'll send YOU some Arlo merchandise and a generous Amazon voucher. Why? Because we want to reward you for being a loyal customer and valuable member of the Arlo community.
You've seen what Arlo can do and now it's time to spread the love to other training providers.
Here's how it works
1. Tell your network
Send your unique referral link to someone you think could benefit from Arlo. Anyone who clicks your link will be prompted to book a meeting with our team.
Alternatively, complete the below form and we'll contact your friend for you (don't worry, you'll still get the reward!).
---
2. We show them Arlo
Your friend will attend a 1:1 demonstration of Arlo with our sales team over Zoom.
After they've attended the meeting, we'll send you an exclusive Arlo t-shirt or hoodie (see below for a pic).
---
3. They start using Arlo
If they like what they see and choose to sign-up with Arlo, we'll also send you a US$200 Amazon gift card to say thanks.
Let's talk about the good stuff
Here's what we'll send you to say thanks.
---
Arlo merchandise
Your friend has attended a sales demonstration with us. We're sending you an Arlo t-shirt of your choice to say thanks. When your third friend attends a demo, one of these Arlo hoodies is on its way too 👇.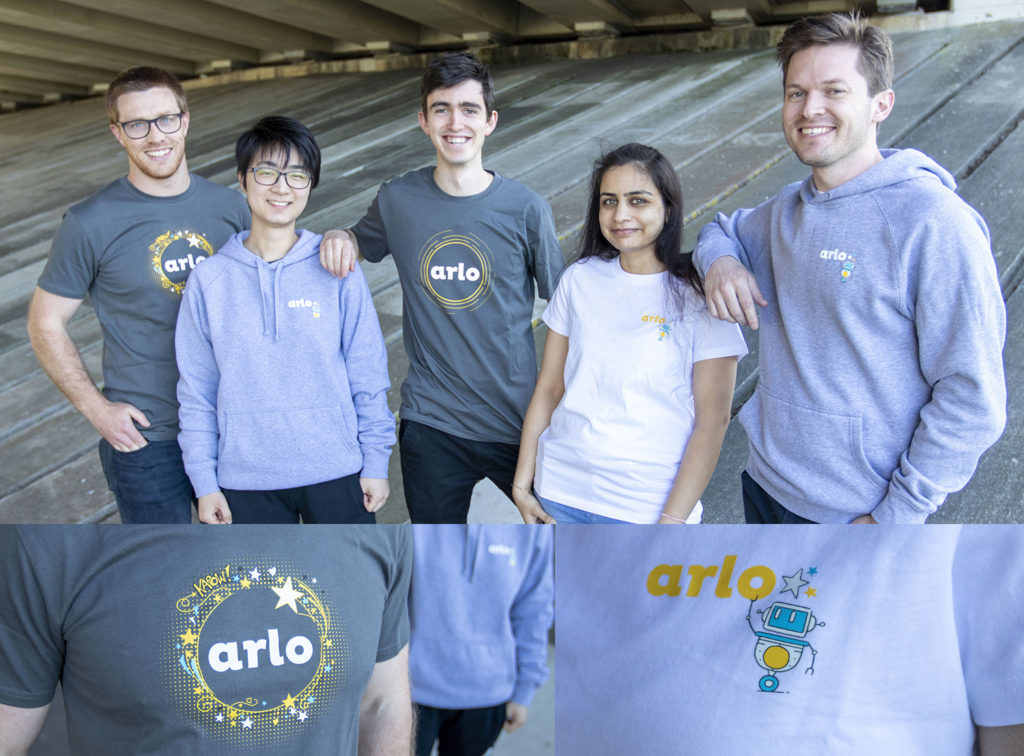 ---
Amazon gift card
The business you referred has signed-up with Arlo. We're sending you a US$200 Amazon digital gift card to say thanks.
Frequently asked questions
How do I get my t-shirt or hoodie?
After your friend attends the sales demonstration we'll reach out to you to confirm your t-shirt size and delivery address. When your third friend attends a demo, we'll confirm your size and get an Arlo hoodie out to you too.
When will I receive my $200 Amazon voucher?
After your friend signs a contract and has paid their first invoice, we'll send a digital US $200 Amazon gift card to your preferred email address.
Do I have to be an existing Arlo customer?
This referral program is designed to reward our loyal Arlo customers.
If you're not a customer, but would like to work with us on a referral scheme, please email marketing@arlo.co.
How many people can I refer?
We won't put a cap on your love for Arlo! You can refer as many friends as you like and get rewards for each.
I don't have time to send emails to all of my friends.
No problem! Email marketing@arlo.co with a list of names and email addresses of friends who you think could benefit from using Arlo and we'll get in touch with them directly. Don't worry, you'll still get your rewards!
Do I get to pick which Arlo t-shirt I receive?
You sure do! We think you'll look snazzy in any of our Arlo t-shirts, but you've got a choice of grey or white, a choice of 6 different sizes, and a variety of styles to choose from.
If I give you my friend's email address will you spam them?
Absolutely not. We'll treat their personal information with care and won't spam them with marketing material. Promise.
Refer a business now
Tell us about someone in your network who needs Arlo (don't worry, you'll still get your rewards!).