←
Apps
LearnDash integration
Bring elearning to your WordPress site
Build engaging online learning experiences using the LearnDash LMS & connect it to your Arlo platform to create seamless elearning and blended journeys with no manual processes.
Blended learning
Deliver learning journeys
Gone are the days of delivering one-day courses. Use LearnDash alongside Arlo to deliver a learning journey, full of interactions and experiences.
LearnDash and Arlo
Total solution for training providers
Promote, sell, and deliver self-paced elearning, live online, face-to-face and blended courses.
Integration powered by…

Arlo connects seamlessly to LearnDash using Training Spark's WordPress plugin. Create connections to courses and course bundles in three clicks.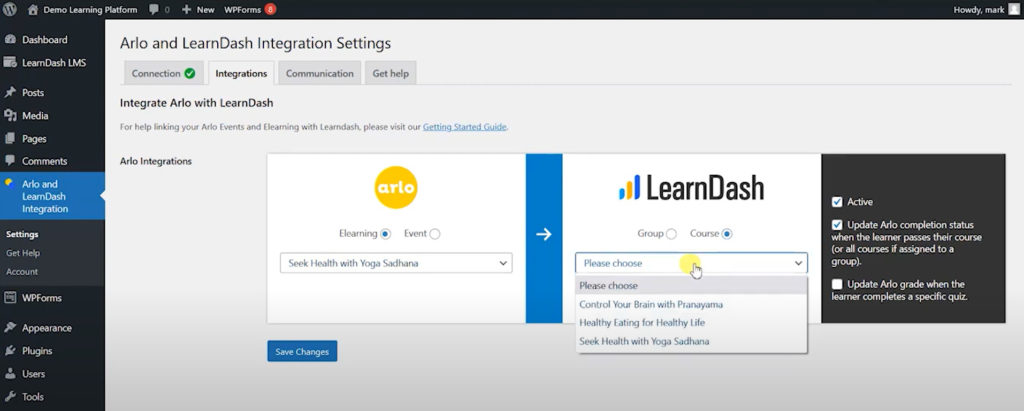 How it works
The Training Spark plugin ensures data flows seamlessly between Arlo and LearnDash LMS. Set it up once, and let it run!


Schedule & map courses
Add your course dates to Arlo and map them to a LearnDash course using the Training Spark plugin. Scheduled courses go straight to your website – no need to update it manually.


Learners sign up
Learners register and pay on your Arlo-powered website. Their details are sent to LearnDash instantly. Arlo sends the learner info about the instructor-led sessions, while LearnDash tells them how to setup a login and access the self-paced course content. All this happens automatically in the background.


Deliver courses
Run your blended course in-person or online. Once the course is over, LearnDash sends learner results back to Arlo so you have a full record of learning. Things like certificates, feedback surveys and invitations to attend your next course are all taken care of in the background too.
Frequently asked questions
Why would I need both Arlo and LearnDash?
Arlo automates training administration tasks such as collecting registrations and payments, and managing instructor-led training. LearnDash allows you to create and host self-paced elearning. Together, Arlo and LearnDash allow you to sell and manage rich blended learning experiences.
What do I need to use Arlo and LearnDash together?
You will need…
– An Arlo account and an active subscription.
– A WordPress site with the latest version of LearnDash installed.
– Either Training Spark's Arlo-LearnDash plugin or Zapier.
Can I view a learner's LearnDash progress in Arlo?
Yes – Training Spark's plugin will update course completion information for a learner in Arlo when they have completed a course or group of courses in LearnDash. If you have a final quiz in your course the learner's score can also be pushed into Arlo.
Can I enrol Arlo learners on a bundle of LearnDash courses?
Yes – with the Training Spark plugin you can associate Arlo Elearning Activities or Course Templates with a group in LearnDash. This group can include one or more LearnDash courses.
Do you provide an installation and setup guide?
Check out Training Spark's comprehensive getting started guide. Their plugin includes a troubleshooting dashboard to help support resolving any unlikely issues.