Blended learning
Take live training to the next level
Blended learning is the best way to both scale your training operation and increase knowledge retention. Arlo makes it possible by connecting your learning tools and automating tedious tasks.
Deliver rich learning experiences
With Arlo you can sell and manage blended learning courses that consist of multiple live online sessions, face-to-face events, and eLearning activities. The ultimate blended solution!
Multi-session courses
Manage & repeat webinar series
All-day webinars don't work, but splitting it up leads to more administration right?
Our multi-session feature makes it easy to manage multiple short, high-impact training sessions in a single course. If you run it regularly, click 'schedule another' to copy it to a new date in just a couple clicks.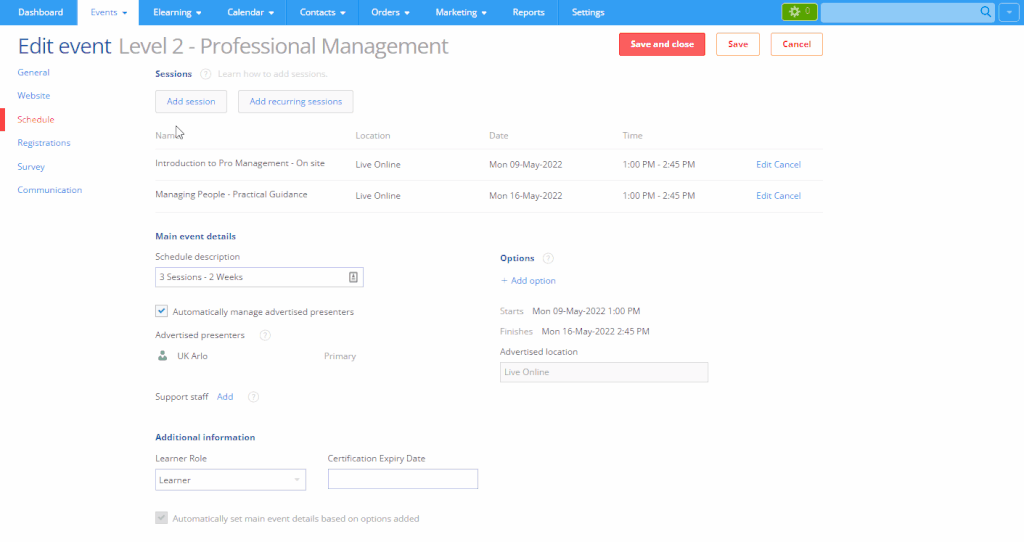 Integrations
Connect your favourite learning tools
Arlo integrates with the leading webinar and learning management systems. With complete control and visibility from one central hub, it's easy course management for you and a seamless experience for your learners.
FREE GUIDE
The Ultimate Guide to Blended Learning
Everything you need to launch blended courses in your training organization.
How does Arlo's blended solution work?
Let's walk through the lifecycle of a blended training course…


Schedule your courses
Easily schedule your calendar of blended courses in Arlo. For classroom sessions, specify the presenter and venue information. For webinar sessions, specify the Zoom host.


Publish them on your website
Use our drag-and-drop website builder or connect your existing website to Arlo so when you schedule a course, it's automatically published on your website.


Accept and manage bookings
Learners can register and pay for your blended courses right from your website. You can create custom forms that capture the information you need and even upsell your customers with optional sessions and extras.


Automate communication
All course-related emails are automated. Including order confirmations, invoices, course instructions, and pre-reading material.


Deliver your courses
Your trainers are automatically sent details about the course – whether it's on-site or online. They can check-in attendees with Arlo's mobile app or engage with them on Zoom. All attendance data is fed back into Arlo.


Certificates, surveys and more
Once a course is completed, Arlo can automatically send personalized certificates to those who passed, send feedback surveys, and invite registrants to attend your next related course.
Blended learning FAQs
What is a blended learning system?
Blended learning systems are used to manage all the moving pieces of a blended learning course, such as scheduling and emailing learning. They allow you to mix together instructor-led sessions in a classroom or over Zoom, and access self-paced elearning activities. Some software goes further by allowing you to sell your blended courses online and report on performance.
Who uses blended learning software?
1 Training providers who regularly deliver blended courses and need an efficient way to manage their many course administration tasks.
2. Internal training providers – training people who do not pay to attend a course, for example upskilling your staff
3. External, commercial training providers – training people who pay to attend a course.
Do I need a blended learning solution?
If you run more than 2 or 3 blended courses per month, you probably need a blended learning solution as they're so labor-intensive. Yes, you can manage them manually, but this solution doesn't scale. Blended learning solutions save you time by eliminating manual administration, so you focus on course delivery, course development or business development.
Can a blended learning system run my training business?
Some blended solutions go well beyond simple course management. Known as training management systems, they manage all aspects of your business. They can power your website, capture bookings and payments, automation follow-up tasks, report on performance, and integrate with your other business systems.
How much do blended solutions cost?
From $25 to over $1,000 per month. Arlo starts at $99 per month plus $2 per registration – view the pricing.
Everything you need
Arlo is way more than software to manage blended learning. It's a training company system to manages your business from end-to-end so you can sleep easy.

Classroom Courses

Live Online Courses

Self-paced Elearning

Website

Online Registration

CRM

Marketing

Certification & Licenses

Finance & Invoicing

Customer Portal
Customer story
True's Arlo + Zoom + Learnbook blended learning solution
Customer playbooks
Blended examples from real training providers
Get started now with a 14-day trial.
No credit card required. Unlimited users.