Buyers Guide
Purchasing a Training Management System
In this buyers guide you'll discover how to evaluate different Training Management Systems, identify your requirements and make the most out of your investment.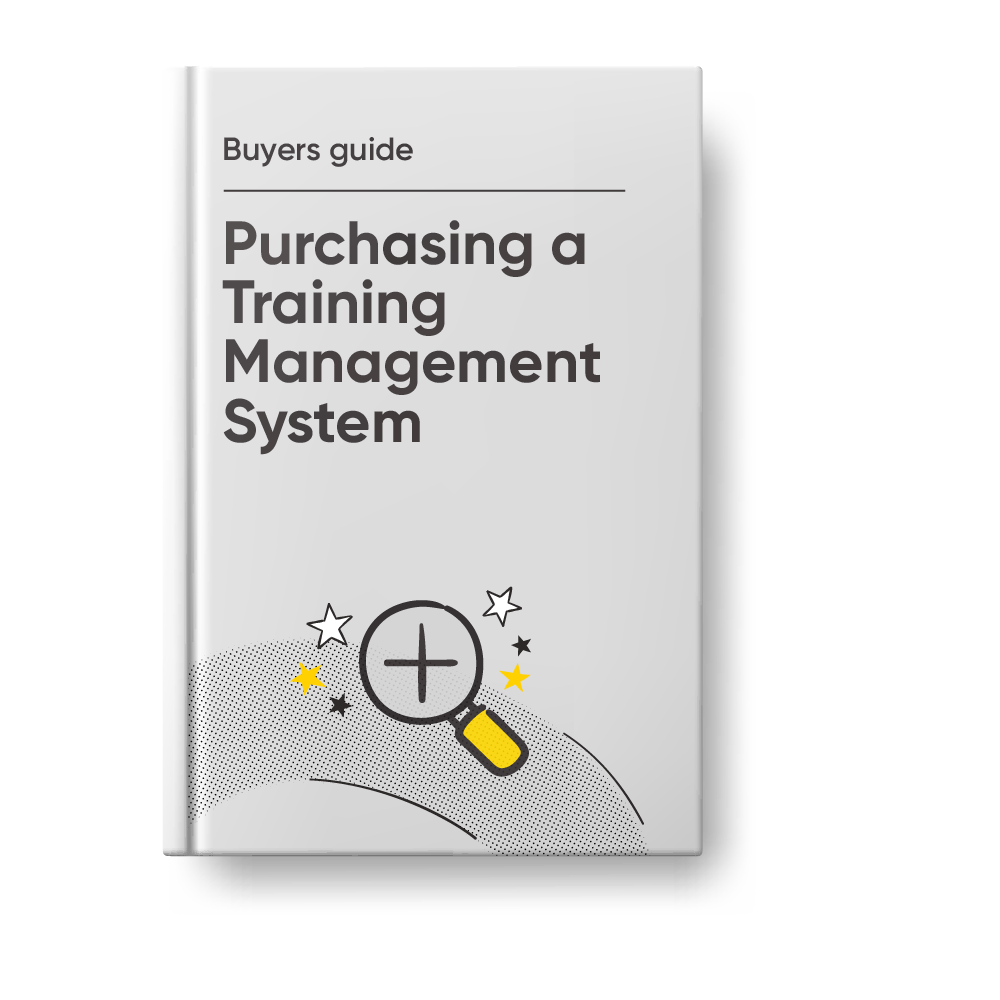 The buying process
Presenting the key features of a TMS has been a crucial starting point in our buyer's guide so far, however this is only one stage of the buying process. There's a lot of information to digest, and looking for a TMS can be a big investment in time and money, so we have mapped out eight actionable steps to help put your plans into practice in the most efficient and effective way.
There's a lot of information to digest and looking for a TMS can be a big investment in time and money. To simplify things for you we have broken the buying process down into eight actionable steps:
Write down goals for your projects.
Plan your timeline.
Identify your requirements.
Evaluate potential vendors against your scenarios.
Find out what their existing customers are saying.
Make a decision.
Get started.
Review, optimise and improve.
If you aren't too sure what a TMS even is. Check out our Ultimate Guide to Training Management Software.
1. Write down goals for your projects
Hard metrics
These are focused on tracking data and the measurability of your training provider business. Having a reporting function can help you establish goals such as:
Increasing registration numbers.
Improving website conversion rate.
Soft metrics
These are generalised effects that may not be quantifiable, but just because they cannot be measured reliably doesn't mean they aren't useful; they work alongside hard metrics to gain an overall picture of progress. Soft metrics might look at the overall problems you are trying to solve, such as:
Reducing the amount of manual administration your team does.
Increasing visibility for the ROI of a venue or course.
---
2. Plan your time
Change can be scary but it's also easy to sweat the small stuff and lose sight of your end goal. Setting timelines can help you to speed up the shopping process whilst also giving you enough time to make the best decision. Keep in mind that transitioning to a TMS is a process: the day you make your final decision will not be the day you achieve ROI, or have the system up and running. To help maintain an overview of your project it may help to set milestones on your timeline for:
Selecting a TMS
The date you plan to start and finish your implementation
When you want to see some value in your investment
---
3. Identify your requirements
Now's the time to prioritize and be ruthless. Don't let striving for your ideal system stop you from implementing the best system possible. Sort your requirements into two piles — we've already got the ball rolling with two examples… What's on your list?
---
4. Evaluate potential vendors against your scenarios
Look for a free trial
Try before you buy — if there isn't a free trial publicly advertised it's always worth directly asking the company. Many providers don't publicly offer a free trial on their website, but do give prospects access to their product if they are further into the purchasing decision.
Carry out comprehensive testing
Write user stories for each of your stakeholders who will be involved in making the decisions and/or using the TMS. User stories aren't just a list of your system requirements, they help you make human-centered business decisions by putting the end-user in the picture. It's also worth noting that the user doesn't have to be the customer, it can be anyone involved in the process. The purpose of these stories is to help you consider the context and value that your potential TMS will add.
Take your user stories to the vendor that you are considering and check that they can be realistically achieved. It's better to know early whether you will be able to do something so you can make a plan.
Compare your list of 'can't live without's to the features and functionality of the TMS. Identify the core features in the system you're considering and ask yourself 'how will this feature deliver a particular value to the customer?' Clearly think about every person who will be in touch with your TMS and what they specifically need the TMS to do.
Task: write out sentences in the following format: "As a [user role] I need to be able to [action you need the TMS to do] so that I can [reason why]"
Example: As a training course administrator I need to be able to see how many people have registered for each course, so that I can order the right amount of catering.
Take your prospective TMS for a comprehensive test drive and see if you can do what you need to do. If you have unique requirements, don't just hope that the salesperson's assurances about the system are true — grab the steering wheel and find out for yourself!
Communicate your requirements to your sales representative and don't hold back on those critical details; any good sales representative will know that helping you to make the best product decision is in their best interest. Your queries could result in them showing you a killer feature that's tucked away in a corner of the platform which solves one of your scenarios. Remember, your requirements are unlikely to be unique so they might be able to suggest an elegant workaround or identify a solution that is already in their development roadmap. Happy customers have a higher retention rate so you can assume your sales representative wants to make the product work for you to the best of their ability.
Understand the legal and data requirements
Make sure your TMS meets these standards before you purchase. Data privacy is becoming a big deal and it's your responsibility to make sure your business conducts itself appropriately.
Look for a dynamic system that evolves with your business
Find out what the potential vendor's release schedule is for their solution and try to get some visibility on their roadmap. Regular updates to the product is a good sign that the vendor is investing in research and development which should, over time, increase the value you receive from your investment.
Seek support — who can help you the best?
The road to success may be full of potholes, so it's best to establish early on which potential system will be able to come to your rescue the fastest:
Is their support team locally based?
What is their response time?
TMSs are complex to implement by nature, especially if you are coming from an existing system and want to know which potential vendor has the best implementation options:
Do they provide training on how to use their system?
Can they assist you in migrating your data if needed and do they offer easy-to-use DIY options?
Try out their support documentation and see if it's easy to find the answers to your questions. You're going to spend quite a bit of time in support articles in the early days, so it's good to know before purchase that you can find the answers without feeling like you're banging your head against a brick wall.
---
5. Find out what their existing customers are saying
The majority of vendors will have publicly available case studies on their website; you should browse examples and reviews to see if the vendor is already serving businesses that are similar to yours.
Besides the vendor's website, you can access reviews on sites such as Capterra or G2 Crowd. These sites are a great tool to start your search for a training management system as they offer a wide range of perspectives and experiences to learn from. Whatever the business, you're bound to find reviews of businesses that share some nuances to the way you deliver your type of training.
---
6. Make a decision
Make sure you get the right pricing plan for your business
It can be tempting to just go for the cheapest option when it comes to pricing plans but make sure you aren't missing out on a feature that your business really needs.
Top tip: make sure you understand what plan the sales representative is showing you in demonstrations. Often salespeople will show you the system's full capabilities without making it clear that it is not available on all plans.
Watch out for hidden costs:
Processing fees – Vendors can add an extra percentage onto every transaction you make on their system to cover 'processing'. This is not necessarily a bad thing, but is often not clearly communicated in the buying process. It's best to be up front before purchasing about how much the entire system will cost you to run.
Registration costs as a percentage – Some vendors choose to clip the ticket as a percentage versus a simple one-off charge for every registration. Be wary of percentage-based registrations as this can easily blow up to be a large expense for you. Be clear on whether there is a maximum charge for this, for example, a vendor may charge 4% but limit this to $30 per registration.
Implementation fees – Understand how much and how long you will need to budget for implementing the system before you purchase. Most systems have implementation options, some are mandatory, some optional, and all range in price. Make sure you factor this cost into your decision and weigh up whether the expense is worth the support you will receive.
Hidden costs for extra features – If you are considering a vendor that has multiple plans, double check with the sales representative that the features you require are on the plan you are selecting. Some vendors charge extra fees for certain features. It's always worth asking whether any of the features you need fall into this category.
Consider the contract term
Some vendors will try to lock you into a multi-year contract at a discounted rate whilst others offer monthly plans. If you have commitment issues early on then start out in a month-on-month agreement whilst you continue your due diligence, then switch to an annual contract later when you're happy with how the system has integrated into your business.
---
7. Get started
Training
A TMS won't automatically transform your business whilst you sit back and relax. Expect to spend time and money on getting used to your new system. Shortcuts will only serve as self-sabotage, so once you've made the initial commitment to your TMS of choice, don't be afraid to spend extra money on training and block out some time to practice using it.
Commitment
Implementing a system takes time, and often you can't see the benefits right away. The more work you put in up front, the more you'll get out of your TMS and the quicker you'll reap the rewards. The project of implementing your TMS might mean you need to put some of your usual tasks on the back-burner. During the transition period we recommend having a project manager or a champion within your team who will spearhead the adoption and rollout of your new system.
Pragmatism
No system will be able to perfectly slot into your existing processes so you might need to adjust your expectations. You have to be ready to change your current ways to get the most out of your new TMS.
---
8. Review, optimise and improve
To get the most out of a continually developing system like a cloud-based TMS, you want to be kept in the loop about any product enhancements. Utilise the opportunity to be heard and give useful feedback on surveys your TMS providers send out: mention what bugs you, what features are lacking and what is working well. All this helps towards enhancing the TMS product so that it brings you more value.
Checklist: Purchasing a Training Management System
Features
Examine whether the TMS in question will allow you to:
Integrate with your existing website, or if you don't already have a website, does it have an easy to use website builder?
Take online payments and offer flexible payment plans?
Enable you to customise your registration and checkout process?
Use an in-built CRM to keep track of all your customer interactions and business relationships?
Cut the admin and automate tasks involved in managing the lifecycle of your courses?
Proactively market to your audience and help you grow business leads?
Gain both a day-to-day snapshot and a bird's-eye view of your business via customisable reports and data dashboards?
Integrate seamlessly with an LMS so that you can increase your offering and deliver effect elearning?
For more on the features you should be looking for in a TMS, check out our Buyers Guide to Key Features within a Training Management System.
Integrations
Find out what an 'integration' will allow you to do in practical terms:
Is the TMS compatible with all the systems in your current tech stack?
Can your data flow both ways between your TMS and website?
Would integrating with the TMS require manual data pushing or cleansing in order for your data to flow between systems?
Does the TMS used a third-party system and are there hidden costs involved in running your data through this?
For more on the how your TMS can integrate with other systems, check out our Buyers Guide to Training Management Software Integrations.
The Buying Process
Write down your goals, plan a timeline and make the best possible decision for your business by asking yourself:
What are the features you want to prioritise when shopping for a TMS?
Does the system provider allow you to try before you buy?
Do the TMS features deliver the values identified in your user stories?
Is there a good support team that can help you get to grips with implementing the TMS?
Have you factored in all the costs that may be involved at each stage of using the TMS?
What features does your price plan get you? Are all the capabilities you wanted from the demonstration included in the version you've selected?
Has the TMS had regular updates in the past and can you find out the release schedule for future developments?
Want to give a TMS a go?
Try our FREE 14 day trial