Six ways to increase revenue for your training business. From simple hacks to save on costs that you've previously absorbed, to intelligent marketing automation. Read on to find out what other top training providers have implemented into their own businesses.

As a training provider, you're always looking for new ways to grow your business and increase your training revenue. You've nailed the basics – identified your target market. Built a top-notch website that's designed specifically to sell training courses. Nailed your course offerings. Automated your administrative tasks with a training management system like Arlo. And you have some basic email and social media marketing underway.
Where do you go from there?
We've talked to some of the top performing training companies at Arlo to see how they've broken the mould and continued to increase revenue way beyond the status quo. Here are the six top tricks that they shared with us.
6 ways to increase training revenue
1. Course bundles
A course bundle is a collection of courses, or courses plus extras, that are bundled together and sold as a package deal. Training companies might choose to break a course into multiple parts, and then pitch it as a package deal. Another opportunity is to up-sell an intermediate or advanced course to learners who've completed a beginner course. Or perhaps, give learners the choice to add-on valuable extras. Such as 1:1 mentoring, access to a resource library or community forum, breakout sessions, networking events and more.
Course bundles are usually offered at a discounted price (think 10% or 20% off the total value), making it appealing for learners to purchase multiple courses upfront. For learners, course bundles are appealing because they're cost-effective. It enables them to gain a comprehensive understanding of one subject or a variety of related subjects without having to go searching for more courses. And gives them the flexibility to pick and choose what options best suit them. For training companies it means an increased number of course sales. Reduced marketing costs. Higher value customers. And increased customer retention.
By bundling courses together, you can offer learners a package deal that is more appealing than purchasing individual courses. This, in turn, increases the number of sales and the overall revenue generated from training.

Check out this bundle example from Simply Academy's AdvisorSkills course.


2. Smart web tools
It's likely you've already got a website, you're listing your courses online, accepting online bookings and possibly even taking payments. That's a great start. But, not all websites are created equal. The Arlo for WordPress plugin provides a slick booking experience for your learners. It will see your registration numbers sky rocket, as well as some additional business and marketing tools for you.
Pre-built webpages & widgets including course catalog with smart filtering, calendars, course pages, homepage features, and a seamless registration and checkout process make it easy for your customers to find, register and pay for the courses they want to attend. You'll see your conversion rate increase in no time at all. Which you can easily track and measure with Arlo's inbuilt e-commerce reports.

Without getting too technical, Arlo uses the latest search engine optimization techniques. These include rich snippets and automatic SERP meta descriptions to ensure that when someone goes looking for a course on the world wide web, your website is found.
For Darren Payne at Stream Marine Training Limited, their Arlo for WordPress website gave them an organic SEO boost that saw their website appear at the top of Google searches. The result? SMT is selling a huge 41% more courses. Read the SMT case study.
3. Automated email campaigns
Automated email campaigns can help increase your revenue without adding to your existing workload. Arlo has a ton of inbuilt course marketing functionality, and also integrates with several marketing automation tools such as Hubspot, Marketo, Mailchimp and more to further extend your marketing capabilities.
Here are three smart campaigns you can set-up to run automatically to help drive sales and increase your conversion rate:
Abandoned cart
An abandoned cart means someone has added your course to their cart, partially or fully registered for it, but not made it through to the checkout and payment stage. Perhaps they got distracted, they misplaced their credit card, or they needed to double check dates in their diary. For whatever reason, they've abandoned their booking. And you want to do whatever it takes to get them back to your website to complete it. Abandoned cart emails automatically send an email reminding people to come back and complete their course booking. Remember, they've already shown interest in your course, and even intent to purchase. An email reminder may be all it takes to get them over the line!
Waitlist
Enable the wait list function for any of your Arlo courses and automate waiting list emails. Emails are sent to contacts who join a waiting list for a full course, and then automatically send them a second email to let them know when a space is available. The email will include a button to register for the course. You'll quickly fill those empty spaces, without having to lift a finger! The waitlist function also helps you measure demand for your courses. If you have enough people on the waitlist, you may choose to run a second course.
Repeat purchase
Set-up targeted, personalised emails that drive repeat business. For example, you can add tags, time-based filters, and certain criteria to customer data in Arlo to automatically send an email that encourages them to enrol on a second, third, fourth, or more course. For "contacts who have not completed a course in the past 6 months" you may choose to target with an email that contains a discount code for them to enrol on another course.

"Contacts who have completed one course in a series" could receive an automated email encouraging them to register for the next course in order to advance their skills. For customers who require certification, you can set automated emails to remind them to enrol in a course before their certification expires.

There are plenty of opportunities for repeat purchase campaigns. And the good news is that they can be fully tailored using customer data that already exists in Arlo.
4. Pass on processing fees
A simple hack that needs very little explanation – pass the bulk of the payment gateway processing fees onto the registrants and increase your revenue by saving on costs that you've previously absorbed. There are several ways you can cut this! Build them into your course prices, or choose to add them on at checkout for full transparency. By adding a credit card processing fee at checkout, it's up to the customer as to whether they'd like to pay the fee or choose a payment option that doesn't incur one, such as a bank transfer.

Even passing on 50% of the fee could save your business thousands of dollars per year!
5. Blended learning
Blended learning courses take many different methods of delivery. Think self-paced eLearning, live online, classroom, quizzes, video and more – and blend them together to create one single, comprehensive course. This style of training cuts down on costs associated with travel, accommodation, venues and instructor time – delivering a huge cost saving for your business. But blended learning is also seen to deliver higher value for learners – increased flexibility, accessibility, catering to different learning styles, and improving engagement and knowledge retention.
Cue, value-based pricing.
Value-based pricing is a strategy that involves setting prices based on the perceived value of a product or service to the customer. Rather than on the cost of production. The idea behind value-based pricing is that customers are willing to pay more for products or services that they perceive to have greater value. For example, a blended course over a traditional classroom-based course. By focusing on the value, businesses can create a pricing strategy that is more aligned with customer needs and preferences. And that can help them to increase revenue and profitability.
Here's an example of a pricing structure for a traditional face-to-face course versus a blended learning course:
Blended learning is the most effective way to scale your business, increase course capacity, and charge more money – all while increasing accessibility and knowledge retention for learners. For many Arlo customers, including True, Mellor Financial, Parallel Project Training and Positive Partnerships, blended learning has been a game-changer for their training business.

Keen to learn more? Check out the Ultimate Guide to Blended Learning.
6. Discounts and promotions
"Save $100" is the current Limited Time Only offer International TEFL Academy's website. The offer is clearly timestamped, and the call to action is to "Enroll Now".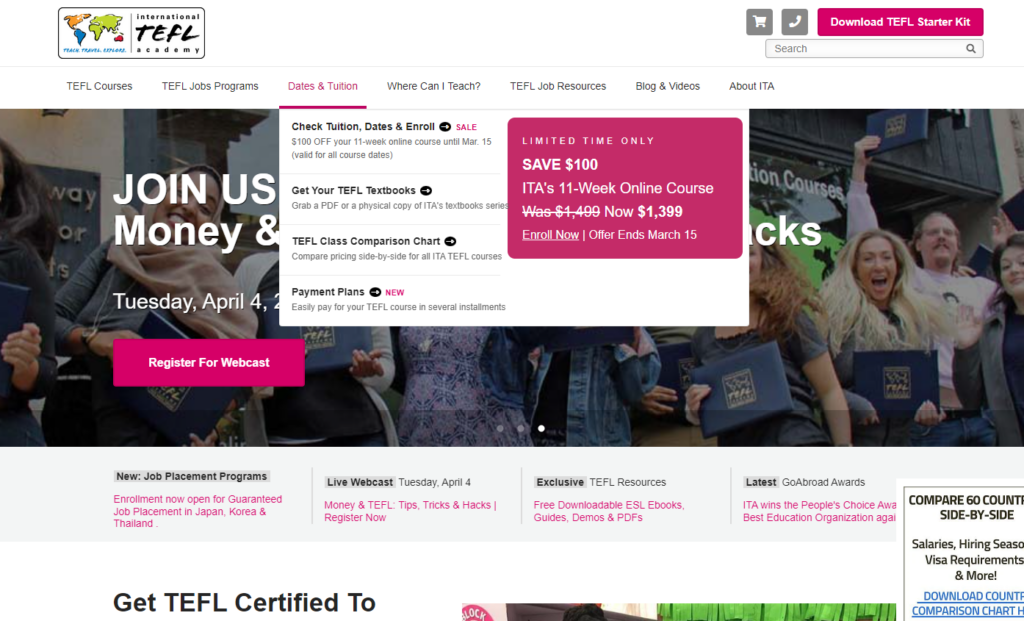 Short duration discounts and promotions are a sure-fire way to convert customers, particularly those who've been considering enrolling in one of your courses for a period of time. And the discount doesn't necessarily need to equate to a loss – smart training providers will incorporate discounts into their pricing model from the outset, allowing for regular promotions like this one. 
But how do you know when to use a discount or promotion? If a course is popular and filling up fast, then of course it doesn't make sense to offer a discount. But if you're seeing slow uptake on a particular course, consider offering a discount to see if you can fill a few more seats. If you're running the course anyway, a sale at 50% of the price is better than an empty seat. Take it a step further and set-up a targeted remarketing campaign – offer a discount to potential customers who've been browsing a particular course on your website but haven't yet converted!
So there are six ways to increase your training revenue in 2023. A round-up of clever hacks from some of the top training businesses in the industry!
Need some help getting started? The Arlo professional services team is here to work with you on all aspects of your training business. Book a call today.
Ready to learn more?
Book a call with the Arlo Professional Services team today.