We often talk about blended learning and its benefits for learners and trainers alike. But how do you walk the walk? Well, recently our management team attended a course that really delivers on the fundamentals of great blended learning. We've shared our experience and some key takeaways, so other training providers can deliver great blended learning too.
Hi training providers. John Mitchell here, CEO at Arlo Software. I recently attended a training course that I felt inspired to share with you all – Section4's The Complete Manager Sprint.
The course teaches managers how to coach, not boss. How great managers build morale and loyalty with their team, and how to coach your teams for high performance. Essentially it teaches managers how to walk the tightrope of hitting targets while also caring for their people. The curriculum was exceptional and Michael Bungay Stanier was a fantastic instructor.
But it was the course structure and delivery that really stood out to me.
At Arlo, we talk often about blended learning, micro learning, mobile learning, and how to create a course that appeals to the modern learner. The Section4 course was a shining example of all of the above.
How the course was structured
Essentially, it's a cohort-based course for people managers, completed over a two-week intensive sprint. Each sprint has 120+ learners, a lead trainer, an expert (MBS), and a team of helpers to ensure 1:1 interactions with learners. The course is made up of four modules that are released at set times during the two-week sprints.
There's some really smart thinking behind this structure.
The short modules mean there's not a huge time investment up-front like traditional courses sometimes require (ie. two full days out of the office during a work week), and makes it easier to fit into our busy lives.
The set release times ensure that the cohort is truly learning together, and no-one is racing ahead and completing all modules on the first day. It also ensures learners don't feel overwhelmed by a large workload upfront. Learning in short bursts is often referred to as micro learning, and is a huge trend in the training industry. Micro learning offers big benefits for learners such as increased knowledge retention and accessibility.
Blended learning is another big trend in the training industry, and Section4 delivered it well. Each of the Section4 modules consisted of short videos covering course content and case studies. The videos were as short as two minutes but no longer than ten minutes – really delivering on that micro learning yet again. Each module included a live session that was run via Zoom. The live instructor-led training sessions had a strong focus on interaction – with live coaching sessions, breakout rooms to connect with other practitioners and practical group exercises.
What we liked most about the course
Time bound.

Having a time bound course creates clarity for the learner in terms of how long the course will take, and how much time they need to dedicate for the duration of the course. Time bound courses, as opposed to an open-end online self-paced course, creates a higher level of engagement with learners. It also ensures they set aside dedicated time for the course, which results in much higher completion rates.
Slack for communication.

The course ultized Slack channels as the main way to connect and communicate. The four Slack channels included Announcements, Community Discussion, Technical Support and a private chat channel with the trainer. It's a great way to connect learners, communicate directly with trainers, and stay up to date with course information.

Slack content included daily topics for discussion, reminders about what's coming up, deadlines, and technical advisors reaching out for 1:1 chats. Creating a forum for learners to communicate is a huge selling opportunity for training providers, as it enables learners to connect with likeminded people and grow their own professional network.
Flexible learning.

Flexible learning in essence can be achieved through blended delivery, but this Section 4 course really took "flexible learning" to a whole new level. The course is built to cater to the tight schedules of busy, full-time professionals. Each module was released at set times throughout the two-week sprint, but how it was completed was entirely up to the learner. Some students liked to keep up day-to-day (1-2 hours per day), while others liked to binge over a weekend.

Even the live sessions were recorded, so learners that couldn't attend a session were able to watch the recordings and not fall behind. The live sessions, community participation or even the end assignment weren't compulsory – meaning learners can adopt a light-touch approach to the course if they choose.

While live learning and group learning works for some, and is encouraged in this course, there is the option for learners to watch all course videos on-demand and submit the end assignment in their own time.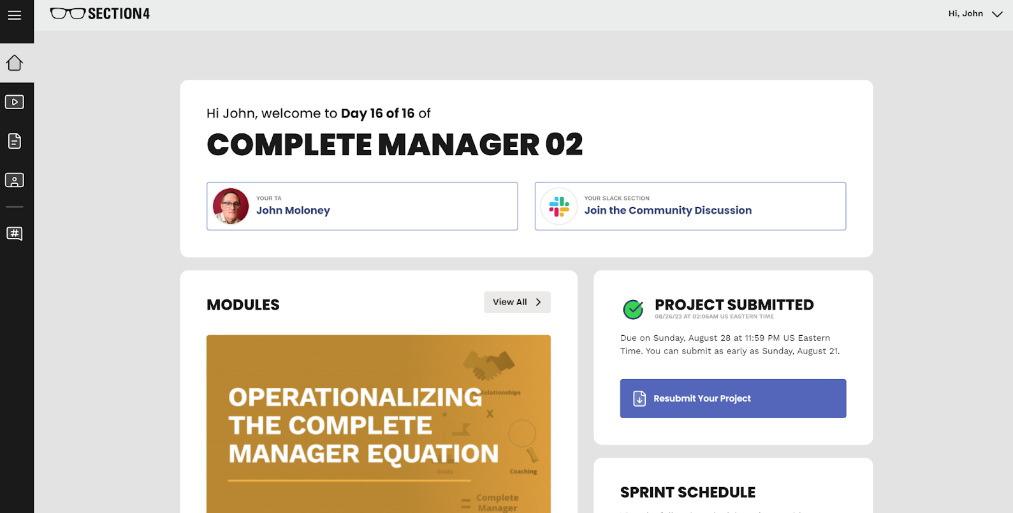 We did it as a team, together.

As a leadership team we completed the course together which meant we were able to share our experience and discuss key topics as we progressed through the course. It also meant there was a little positive pressure to make sure we completed all tasks on time and invested time producing good quality content which we then shared with each other.
"The mix of top-notch faculty, practical content and blended format (video, live sessions, Slack community, workbook) is a powerful formula."

Jonny Corlett – Head of Marketing, Arlo

Key takeaways for training providers
Section4 has delivered a course that truly encompasses "great blended learning". Here are 10 key takeaways to consider for blended learning courses in your own training companies.
10 key takeaways for training providers

Cohort-based learning. Cohort, or private training, creates a community of like-minded individuals and allows them to make connections, share information, solve problems collaboratively, grow their own networks and support each other throughout the course.
Blended learning. A mix of formats cater to different learning styles, improves course accessibility and allows learners to learn at their own pace.
Clear focus. Goals, coaching and relationships. Even before enrolling on the course, it was made clear that those were the focus topics for the duration of the course, and the content delivered on that.
Structured live sessions. Careful moderation and structure on Zoom calls (short sessions, breakout rooms etc) ensured the sessions stayed on track and learners remained engaged throughout.
Time-bound course. The course was time bound (two weeks). Helps learners with time management and sets realistic completion deadlines.
Flexibility. One of the core features of the course was flexibility – a mix of formats, options to complete the course as a group or individually, no compulsory live sessions and on-demand videos meant the course could truly cater to the tight schedules of busy, full-time professionals.
Community discussion. Creating online forums allows learners to connect with each other and build their professional networks. Section 4 utilized Slack for this purpose.
1:1 coaching. Also via Slack, learners could connect with coaches to ask questions and work through any problems.
Assignment. Having an assignment at the end of a course helps to test learnings and identify knowledge gaps. Personalized to a real-life work problem for each learner, it also creates an opportunity for immediate application of learnings, which is a proven way to increase knowledge retention.
Completion badges. At the end of each section learners are awarded "completion badges". This adds an element of gamification, rewards learners for their achievements, and encourages completion. An added bonus? Learners will share these on social media, add them to their CVs and LinkedIn profiles – a free advertisement for your training course!