Training Management System aka TMS features for training providers. The job of a training management system is to automate processes in your training business, removing the need to do things manually. Instead of stitching together ad-hoc systems to manage different tasks, a TMS offers one unified solution. Ditch that collection of spreadsheets, reduce administration, and remove data duplication and the risk of human error.
With a TMS at the centre of their operation, the average Arlo customer reduces administration by 43% in their first year.
How?
Read on for our top 5 time-saving TMS features for training providers…
5 time-saving TMS features
1. Automate emails to registrants
When someone registers on a course, Arlo automatically sends them an email with course instructions with time, date, venue and any other important details they might need to know. You can also schedule automated reminders to keep everyone update, and once the course is complete, a satisfaction survey and completion certificate is automatically sent with follow-up emails. It's set and forget.
Find out more about how to automate emails to registrants in this short video overview of Arlo's course management feature. Watch now.
2. Never update your website again
When a new course is created and approved in Arlo, it's automatically added to your website. All information is pulled through from the Arlo TMS, and displayed on a website that's on-brand and easy for customers to navigate. By collecting registrations and payments online there's no delay, and the information is fed back into the Arlo TMS to automatically track registration numbers and payments.
Websites built for training
Create awesome looking websites that help you sell more courses.

Get the Ultimate Guide to Websites for Training Providers.
3. Learners control their own bookings
Learners can login and access information about their training courses, and if circumstances change, they have the power to transfer or cancel their own bookings. They can see all upcoming courses as well as their training history.
4. Automate billing processes
Accept payments by credit card, bank transfer and invoice on your website. Select from a range of credit card payment gateway and merchant providers including Stripe, Paypal, Windcave, Authorise.Net and ANZ eGate. New registrations automatically create an order in Arlo, trigger related communication, and raise an invoice in your accounting system. Invoices can be customised to match your brand and theme, and include payment terms. By integrating your accounting system with Arlo there is no manual data entry and no errors in duplication.
Find out more about Arlo's online registration and checkout process, including payments and invoicing, in this short video overview. Watch now. 
5. Connect your systems
A TMS won't be the only system you use on a daily basis. Ditch the need to double-up on data entry by connecting these systems with integrations – integral for delivering slick, responsive services that benefit your customers and empower your employees. When your systems talk to each other, your team can focus on building a great training business, not manually moving data around and trying to keep it all in sync.
But bear in mind that not all integrations are created equal. Just because it says 'integration' doesn't mean you'll get a smooth flow of data between your systems.
When researching TMSs don't just skim the text and rely on buzz words to tick your boxes; examine the features and ask yourself, does the integration:
Need manual data pushing, such as exporting and importing data between two systems?
Require data cleansing and formatting in order for information to be passed between systems?
Allow data to flow both ways, or can it only go one way? This is important if you want to have up-to-date data on your backend and frontend.
Update the data between your two systems frequently, and if so, does this work for your business? For example, does data syncing happen every 10 minutes or every hour? Neither option is superior so it's up to you to decide if your business needs real-time data or not.
Use a third-party middleware, and if this is the case, are there any hidden costs? Some integrations are marketed as performed through a third-party system like Zapier. On the surface these sound great, but make sure you test the behaviour and be aware of any additional costs. For example, Zapier charges a small fee per 'zap' every time data flows through its middleware.
Give you version control over your data? Do you find yourself wishing you had access to earlier versions of the files you've saved over? This handy feature tracks the changes made to your data over time and keeps a record of these versions that you can recall whenever you need. It essentially allows you to time travel backwards, so if you need to access a specific version of your data from two weeks ago, you can.
Examples of systems that integrate with a TMS:
Website Content Management System (CMS). CMSs manage the digital content on your website. It allows users to create, edit and publish digital content. Examples of CMSs include WordPress, Drupal and Silverstripe.
Payment Gateways. Payment gateways authorize credit card and online payments for online retailers so that you can receive money from your registrants, often at your website checkout. Examples of payment gateways include Stripe, Authorize.Net and Payment Express.
Accounting Systems. Accounting systems help businesses to keep track of and report on all their transactions. Examples include Xero, Quickbooks and MYOB.
Customer Relationship Management (CRM). CRMs help businesses manage customer data, nurture relationships and track leads. Examples of CRMs include Salesforce, Hubspot and Microsoft Dynamics.
Web Conferencing Tools. Web conferencing tools allow you to hold live meetings, conference calls, presentations and trainings over the internet. Examples of these tools include Zoom and GoToWebinar.
Survey Tools. Survey tools allow you to design surveys, send surveys, report on and analyse reports. Examples include Survey Monkey, Typeform and Qualtrics.

Arlo has native integrations with Xero, Salesforce, Mailchimp, Moodle and more. Arlo also connects with Zapier to enable integrations with over 2,000 other apps. Check out our blog post Why you need a training management system that integrates with Zapier.
See how the Arlo integration with Zoom works to automatically schedule and run webinars.
Conclusion
When exploring new TMS software, examine whether the TMS in question will allow you to:
Integrate with your existing website, or if you don't already have a website, does it have an easy to use website builder?
Take online payments and offer flexible payment plans?
Enable you to customise your registration and checkout process?
Use an in-built CRM to keep track of all your customer interactions and business relationships?
Cut the admin and automate tasks involved in managing the lifecycle of your courses?
Proactively market to your audience and help you grow business leads?
Gain both a day-to-day snapshot and a bird's-eye view of your business via customisable reports and data dashboards?
Integrate seamlessly with an LMS so that you can increase your offering and deliver effective elearning?
Want to learn more?
Want to learn more about how a training management system could transform your training operation? Our short product highlight videos are a great way to understand what Arlo can do. Check them out here.
What would you do with 43% more time on your hands? You could learn a new language, run an ultra-marathon, or watch a whole TV series on Netflix.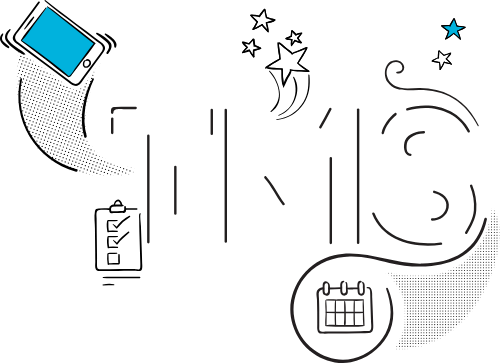 Manage training with Arlo
Find out more about how the Arlo training management system can reduce administration and streamline processes.