With so many options out there, finding the best tools to manage training registrations can be challenging. In this article we explore the top five tools that are used by real training providers to manage training registrations, to help you make an informed decision for your business.
Managing training registrations is a complex task. Collecting details of registrants, managing course capacity, generating interest, creating invoices, sending emails (course details, follow-ups, payment reminders, surveys, certificates), storing sensitive data, booking venues and presenters, manually inputting data into spreadsheets and other business systems. The list goes on. And on…
Most training companies have a hotchpotch collection of systems and manual processes in place to manage their registrations. It might just be a collection of spreadsheets, but it does the job. But is it costing you time and money in manual administration? Are there endless manual processes, human errors and duplicates? Is it hindering your ability to scale your business?
It could be time for an upgrade.
A training management system is our top recommendation for managing registrations, as well as all other aspects of your training business. We'll cover a TMS in more detail shortly, as well as 4 other systems you can use to manage registrations.
These suggestions come from real training providers. We asked our customers what tools they used to manage registrations before discovering Arlo.
Read on for their responses, the pros and cons of each solution and why they switched to a dedicated training management system.
5 tools to manage training registrations
1. Arlo Training Management System
Top of the list is Arlo training management system.
Gone are the days of manually inputting the same data across multiple platforms – Arlo is designed as a complete training management system to handle all administration associated with instructor-led training. Schedule courses, manage venues and presenters, track payments and business growth, automate email communications, create marketing campaigns and more. All under one roof.
With streamlined processes and no more manual administration, you'll see your business scale rapidly. Luckily, with Arlo course registration is easy – for you, and your customers. Customers can quickly find the courses they're searching for with smart filters and register easily online. They simply provide their details, payment in one single process. All of that information is fed-back into Arlo's customer portal, and post-purchase communications are automatic.
Arlo will automatically remind clients via email when their certification or licence is about to expire and then create and track the renewal. You can also set-up and run targeted campaigns to promote a specific course or another service to help sell more training courses. You can build prospect lists based on contact information and previous event attendance, and then create and send your email.
No more spreadsheets and manual processes – managing training registrations is easy with Arlo.
Pros
One central hub for training management
Online registration and payment for customers
Course templates
Automated communications
Manage multi-session courses
Customer CRM
Post-course remarketing
Certificates and renewals
Book venues and presenters
Mark attendance
Manage waitlists
Smart reporting tools
Website designed for training
2000+ integrations to other business applications
Dedicated success manager, customer support and 1:1 training
Integrations to connect with other software applications
Suitable for public and private training
Suitable for classroom, live online and blended learning courses
Secure platform and data hosting
Cons
Not suitable for 1:1 training
Not suitable for HR training
No multi-language support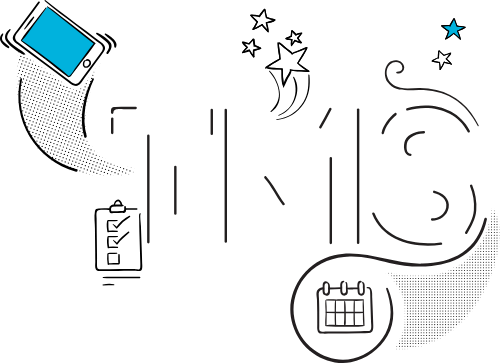 Manage training with Arlo
Find out more about how the Arlo training management system can reduce administration and streamline processes.
2. Jotform
Jotform is a cloud-based form automation solution that enables users to publish online forms, record customer responses, register guests for events, sign-up participants and students for training and educational services. Jotform features a one-page-per-question survey format and several built-in templates and themes that help users to customize their forms.
Users can also add widgets like checklists, image sliders, terms and conditions, date selections, tables and more to their forms. Jotform offers services on a monthly subscription basis that includes support via email, chat, training videos and an online support forum.
Jotform offers 10,000+ ready-made form templates, 100+ integrations to 3rd party apps, and advanced design features making it the leading online form builder for organizations all over the world.
Pros
Easy to create new forms
Wide range of existing templates
User-friendly
Affordable pricing
Email notifications
Payment integration
Plugins with Google Drive, MailChimp, Salesforce and more
Pricing plan options
Email and chat support on some plans
Cons
Not a comprehensive training management system
Manual processes to manage and track registrations
Hard to customize forms
Form design limitations
No automated workflows such as emails, certification, re-marketing
No CRM for ongoing customer management
3. WordPress WooCommerce plugin
Some training providers use a WordPress website with a shopping cart plugin like WooCommerce. This enables them to take registrations and payments online through their website. Collecting customer information at the checkout stage, and manual data entry into Excel or Google Spreadsheets, training administrators can keep track of their course registrations.
For a more advanced solution, some integrate with a CRM such as Salesforce or Zoho. Email communication to registrants is done manually – course confirmation, surveys, follow-ups and more.
Pros
Collect customer information and payment in one place
Integrates with your existing WordPress website
Easily customized to suit your brand style
Cons
Comes at a premium price
No customization to form fields
Manual processes to manage and track registrations
No total registration count
No registration limits
No booking rules
No group booking discount options
No automated course communications
4. Google Forms
Google Forms can be used to create online forms. Select from multiple question types, drag-and-drop to reorder questions, and customize values as easily as pasting a list. You have the option to collect all of the data you gather through Google Forms on one centralized spreadsheet, which means less manual data entry than some other options in this list.
Google gives users the ability to Customize colors, images, and fonts to adjust the look and feel or reflect your organization's branding.
You can also create surveys and quizzes, add custom logic that shows questions based on answers, analyze responses in real-time and create automatic summaries.
Pros
Embed into your website
Secure
Customizable
Low cost
Easy drag-and-drop form builder
Multiple question types
Add custom logic
Mobile-friendly
Set validation rules
Variety of templates
Cons
No online payment options or group discounts
No additional training management tools beyond registration
No total registration count or limits
No automated communications
Better suited to small, one-off events
Not designed for recurring courses
No automated remarketing
5. Microsoft Forms
With similar functionality to Google Forms, Microsoft Forms is another option for training providers to collect training registrations online. You can create forms with a variety of fields, add custom logic, and embed forms on your website. There are a variety of templates to choose from, and you can customize your registration form's design and add custom fields or multi-select buttons. You can view and analyze the collected data in a variety of formats, as well as export the responses to a spreadsheet. Microsoft Forms is free for person use, however, if you would like to use Microsoft Forms for commercial purposes, you will need to purchase an Office 365 subscription.
Pros
Easy export to Excel
Embed into your website
Secure
Add photos and videos
Easy drag-and-drop form builder
Multiple question types
Customize colors and fonts
Add custom logic
Mobile-friendly
Set validation rules
Variety of templates
Cons
Need to purchase a Microsoft Office 365 subscription
No online payment options or group discounts
No additional training management tools beyond registration
No total registration count or limits
No automated communications
Better suited to small, one-off events
Not designed for recurring courses
No automated remarketing
The top five tools to manage training registrations as used by real training providers that we surveyed are: Arlo, Jotform, WooCommerce, Google Forms and Microsoft Forms.
When looking for the best tool for your business there are a huge number of factors to consider, many of which will be unique to your organization. But here are a few key things to consider when exploring tools to manage training registrations:
What does it cost
Is it fit for purpose for your recurring training courses
Does it simplify the process of collecting information from attendees
Does it automate your registration process
Does it provide a secure way for registrants to submit their information
The next step is to compare your wishlist of requirements against the features and functionality of the tools in this list, and any other tools in the market. You'll be well on your way to a more efficient and effective way to managing training registrations!
Try Arlo
See how Arlo effortlessly manages training registrations. Start a free, 14-day trial.