Health and safety training companies have many complex requirements when it comes to course management software. From compliance to reporting and certification, to integrations, they need a solution that ticks a lot of boxes. But when they do find the right solution – they save a ton of time and money on administrative processes.

Software, business skills, accounting, law, construction and trades. These are just some of the industries that are using training management software like Arlo to run their training businesses. But it's health and safety training providers that make up the largest portion of our customer base.
"We've had health and safety training providers as Arlo customers since day dot! We understand that their businesses are complex." Says Arlo CEO John Mitchell.
"There are usually governing bodies involved, and so reporting and compliance is essential. They need a course management system that's reliable and robust enough to handle a large number of registrations every month. As well as store and export data, track completion and issue certificates.
When health and safety training providers discover Arlo can do all of those things it's usually a no-brainer. You're never going to get that with basic event software like CVent or Eventbrite", says John.
So what is it about Arlo that health and safety training providers love? We asked our customers to share their favorite features.
Key features for health and safety training
eCommerce
For True Relationships & Reproductive Health, Arlo's eCommerce functionality was a feature that stood out.
Learning and Communication Systems Coordinator Audrie Jurgens says "Arlo was the training management solution we didn't know we were missing. A key requirement for us was to be able to provide third-party invoices to our education customers and offer payment by bank transfer as well as credit card. Arlo was able to do both right out of the box – no expensive custom development required."
Reporting
UK training provider APT Health & Safety offers tailored courses for a variety of workplace roles and environments. They deliver first aid training by qualified trainers, accredited through NEBOSH, CIEH, CITB, ECITB, IOSH, AoFA and UKATA.
With such a large number of courses and registrations, APT finds huge value in Arlo housing all customer information. They can quickly see completion rates, identify individuals who are due for course refreshers or who haven't completed a certain advanced course, and send emails to them. Using Arlo's reporting feature, staff can also see what course and events are coming up, monitor registrations, view events people have registered interest in, track the value of orders per month, and manage daily tasks.
For operations director Martin Blackemore, Arlo's reporting feature is invaluable as it gives him a solid idea of how the business is tracking. He says – "I get to see everything in the vast array of reports. On the off chance there isn't a report already available for what I need, their support team is quick to build me one too so we can concentrate on running and growing our business."
Arlo allows you to save and schedule reports to be automatically sent to an email address(es) on a regular basis. Reports such as course performance reports for managers, custom reports with filters and read-only access for certain users.
Compliance, certification and license management
Keep record of all your certification and licensing information ready for an audit, including your scanned documents. Use Arlo's reporting tools to export and manipulate data for the relevant governing body for compliance. You can even create custom Excel templates to make it easy for future reporting.
Arlo makes managing certifications and licenses easy by storing all of your customer data in one central place. And automatically updating existing records whenever they complete a new course.
As well as storing this information in the back-end, Arlo will issue certificates to your attendees when a course is completed. So your customers know the type of certification they've achieved and how long it's valid for. With the look-up function you can quickly and easily perform a search to see if a health practitioner holds a current and valid certification or license.
Arlo can also send email reminders before certifications and licenses expire – to let your customers know it's time to book a renewal course for their health and safety training.
Blended learning
Blended learning course delivery was another key component for True. Playing such an important role in the community, it is an essential requirement for True to deliver accessible and inclusive training to all areas of Queensland regardless of location or availability – especially rural and remote regions. This led True to develop a range of flexible self-paced health and safety training courses to add to their course catalog.
Using an integrated system of Arlo, Learnbook and Zoom, True was able to deliver those blended learning courses effectively and efficiently.
See how True delivers immersive blended learning encompassing activities, quizzes, webinars, podcasts and online forums in our Ultimate Guide to Blended Learning.
Zoom integration
Safe Beginnings is Canada's leading provider of infant and toddler-focused safety. Co-Founder Holly Choi knew she needed a training management system to handle their large volume of registrations. After months of research, and over 30 different software trials, Holly found that Arlo was the ultimate solution for her training business.
Her favorite feature? Arlo's Zoom integration. Arlo's Zoom integration saves you time by automatically scheduling meetings when you create a new webinar course in Arlo. As well as automatically sending communications to your customers with their Zoom meeting URL and details to attend.
When COVID-19 hit, Holly had to cancel all face-to-face courses and quickly shift to live online webinar. Thanks to Arlo's Zoom integration, they were set-up to offer regular live webinars via Zoom and transfer all existing registrations within a week of the pandemic being declared.
"Having Arlo was amazing. We were able to pull students from the Arlo registration database directly into the newly scheduled courses as they emailed or phoned us to rebook, and it was so painless and easy", Holly says.
And with the introduction of a new webinar course, Safe Beginnings was able to expand their business globally and increase their sales by 50%. An unexpected upturn of the pandemic.
"We saw a 50% increase in sales after implementing Arlo."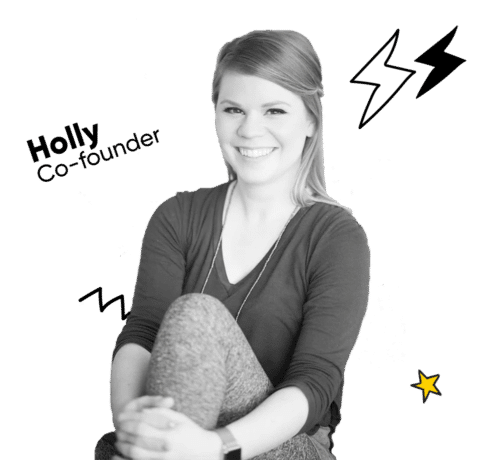 With Holly's help, we have created a downloadable worksheet for training providers to evaluate the requirements of your own health and safety training business against the features of a training management system.

Make sure you're investing in the best solution for your business!
Go on, book a call with us
Just 10 minutes of your time to find out how Arlo could transform your health and safety training business.