Whether you're a training center, a higher education provider, or a private consultant, it's important to be across all of the relevant training magazines. Keeping up to date with what's happening in the industry is important for context, trends, new technologies and staying one step ahead of your competitors.
But with so much information out there on the world wide web, it can be hard to know where to start, or which sources to trust.
That's why every quarter here at Arlo, we do a round-up of industry news and send it to our database of training providers. If you'd like to cut out the middle-man and subscribe to our quarterly newsletter for a round-up of top news, just email marketing@arlo.co and we'll add you to the VIP list.
But if you're of the curious kind and looking to kill some time on your daily commute or in between sips of your morning coffee, you might want to go straight to the source. In no particular order, we've pulled together our top training magazines and news sites so you can check them out on your own terms.
Top Training Magazines
LMS Pulse
Formerly MoodleNews.com, LMS Pulse is the industry-leading publication for all things eLearning and LMS. You'll find everything from news, discussions, tutorials and reviews for successful eLearning. And if you haven't yet been to one of their annual eLearning Success Summits, then go check it out here. Three days of presentations from industry experts on eLearning trends and technologies, and more than 6,000 attendees, it's definitely the event of the year for learning and development professionals.

eLearn Magazine
eLearn Magazine is newest publication on this list and is a collaboration between eCreators, eThink and Open LMS. An initiative from their merger into Learning Technologies Group. A powerhouse of brands, contributors and connections in the learning industry, you'll find authentic news and resources here, without the overwhelm of sponsored posts and paid advertising. You can also filter articles by topic – everything from learner engagement, instructional design to education technologies and online proctoring – so it's easy to find what you're looking for. Or, check out their "communities" section to find articles that are most relevant to your sector.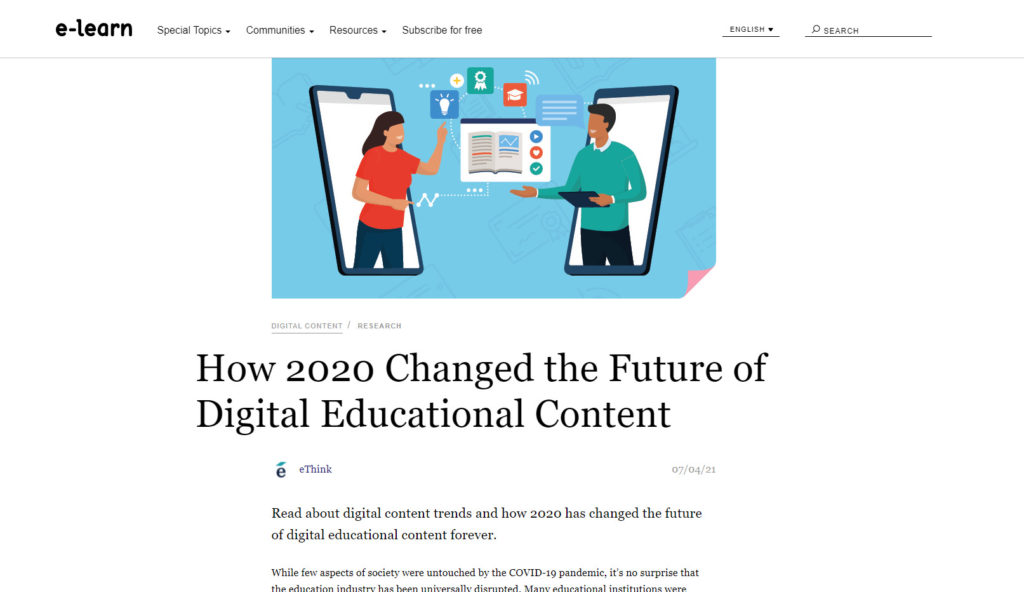 Training Industry
The key difference with the Training Industry publication is it's a free digital magazine that's released six times a year. You can claim your free subscription here. With resources, thought leadership and insights on "the business of learning", this publication provides a tonne of useful information. It's a great resource for learning and development professionals in the wider training industry. If you're a commercial training provider that offers face-to-face, blended, or live online training then this publication is our number one recommendation for you. As it has less of a focus on eLearning than some of the other publications in this list.

Training Journal
Training Journal is formerly a physical UK-based subscription-based magazine that has transitioned to an exclusively online publication. This transition happened in May 2020, amidst COVID lockdown. Founded in 1967 and more than 50 years old, the publication is aimed at everyone from the head of corporate learning & development to the independent trainer. It is a huge resource of information for the training industry.

Training Magazine
For over 55 years, Trainingmag.com has been the go-to resource for training, human resources and business management professionals. In all industries covering leadership and succession planning, recruitment and retention, learning theory, skills assessments and more. Printed in the USA, Training magazine is published four times a year in a print and digital format. As well as a weekly e-newsletter, Training Weekly, which you can subscribe to here. They also run the TechLearn Conference, and an annual Training Conference & Expo, which encompasses their Training Top 100 Awards.

TrainingZone
Primarily UK-focused, the TrainingZone is one of the largest publications for learning and development professionals in the workplace. Alongside regular editorial articles, the TrainingZone delivers research, premium reports for download and live and digital events. Join as a member, free, and you'll get access to podcasts and webinars. As well as connect to other learning and development professionals in a discussion forum.
eLearning Industry
Eight years old, eLearning Industry is one of the first sources for information for eLearning professionals. A publishing platform as well as a learning solutions platform and an online directory for businesses . You'll find everything you need to know about the industry in one place. Founder Christoper Pappas is still a regular contributor, so you can trust that the published content is top quality. With a readership base of 936k per month and a subscriber base of 170k+ learning professionals, you've got to be reading eLearning Industry to be in the know! Subscribe to their email list here.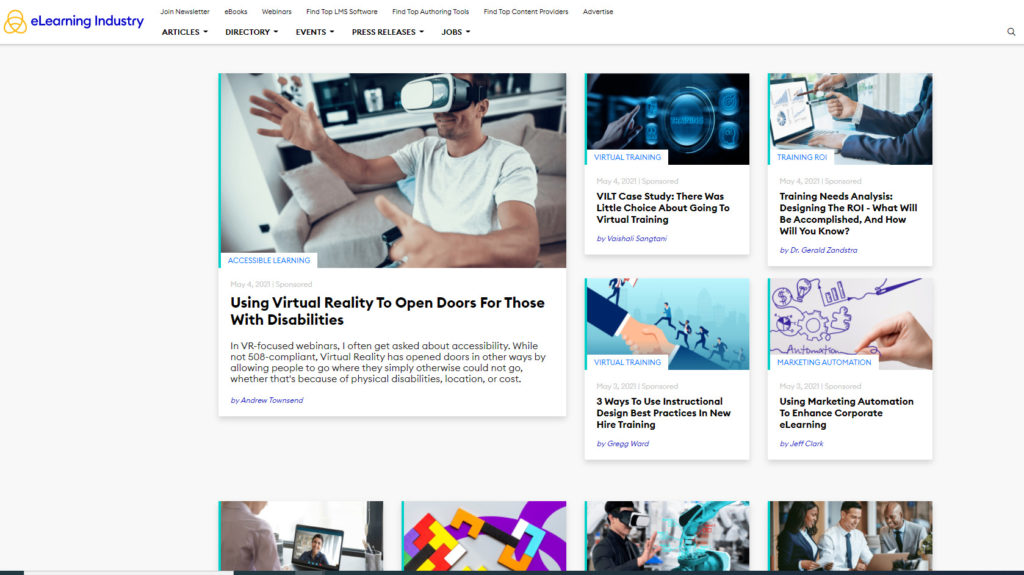 eLearning Learning
eLearning Learning may look like yet another eLearning news publication. But, the content is actually a curation of the most popular eLearning news and resources from all over the web. With articles ranked by reader popularity you'll keep up with the news that your peers are reading. From blended learning, to VR, to micro learning. On the topic of micro learning, we recommend reading this article that we featured in our most recent Arlo newsletter: 3 advantages to shorter corporate training courses and how to trim them.
Arlo Blog
Of course we couldn't publish this list without mentioning the Arlo blog! Not technically a magazine, but still a good source of news for training providers. We cover everything from tips for running a successful webinar course, a downloadable worksheet on evaluating training software. To the results of training industry surveys. Check it out!
On the topic of industry trends…
Check out the Ultimate Guide to Blended Learning to learn more about the hottest new trend in the training industry.