Customer feedback is a powerful tool, giving you valuable insights into your customers' needs and preferences. We've got the top tools and methods to help you collate, manage and apply feedback in your own training business.
In any business, it's important to have a deep understanding of how your customers perceive your products and services. It's important to understand what they like and don't like, what they're saying about your business to others, and if they'd buy from you again.
For training providers, understanding how your customers feel about your courses, content, and presenters is key. The best way to gain these insights is through customer feedback. Using that feedback to identify trends, understand customer behaviour and ultimately inform key business decisions is a simple way to ensure that your customers continue to have a good experience.
In this article we'll look at tools that can help you collate, manage and apply feedback in your own training business. Proven methods of collecting feedback. And the power of sharing positive customer feedback to grow your business.
Feedback tools for your training business
There are a number of tools that exist to help streamline the process of capturing and putting to use the feedback of your customers. Let's take a look at some of the most popular ones that you can use to start collecting feedback today.
SurveyMonkey integrates with Arlo to distribute surveys either when a course starts, or finishes. You can also set automated email survey reminders to be sent to registrants that have not completed their survey.
Using Google Forms, you can quickly and easily create a smart survey. Simply add the link into Arlo's automated follow-up emails to ensure registrants will get it at the end of their course. Responses appear in real time and you can access raw data and analyse it with Google Sheets or other software.
Forums are a great way to increase collaboration between students and extend the value of the course, facilitate introductions and share knowledge. But forums can also be used to capture feedback. An easy way to provide your registrants access to a forum is to include the details in your Arlo course instructions, for example a link to a Slack channel. Using Slack you can then easily send out surveys at a time of your choosing or even start anonymous polls to collect feedback.
Collecting feedback from multiple sources will give you a more comprehensive understanding of your customers' needs and preferences. Including sources where you haven't requested the feedback directly and/or it's anonymous adds extra value. Google reviews, Facebook reviews, and even industry review sites are also great ways to discover and act on independent feedback from your customers.

Survey methods
To ensure you're able to best utilize the information you capture, you'll need to have a good think about what you're going to be asking. To help, we've put together a few common examples of customer survey types below.
A Net Promoter Score survey asks customers to rate how likely they are to recommend your company/service to a friend or colleague on a scale of 0-10. You then compare your percentage of detractors (0-6 answers) to that of promoters (9-10 answers) to see where your company stands. The more promoters you have, the more you can infer your customers are satisfied with you.
You can use slight variations of the NPS question to gather more specific feedback about the quality of your course content, structure of the course, trainers, venues etc.
There are a range of industry benchmarks available for NPS, so it can be a great way to see how you're tracking compared to your competitors.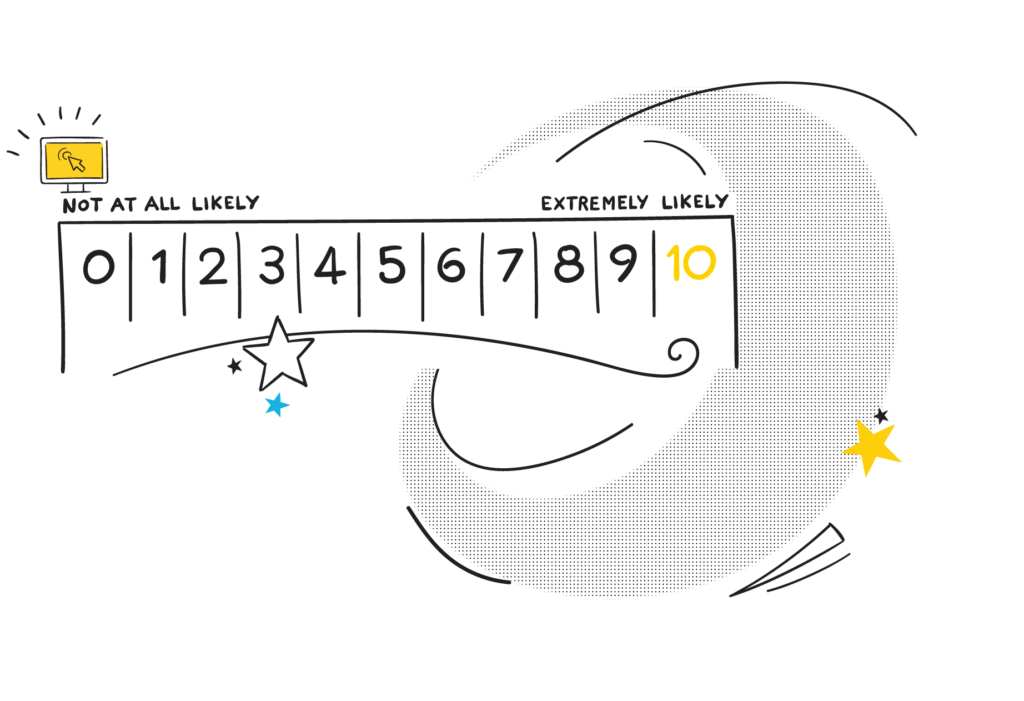 Milestone surveys are sent out at key moments to help better understand a customer's experience. A milestone can be time-based, for example, you might send a survey prior to a course starting to gauge the registrant's experience with certain topics. Or experience based, for example after completing a certain part of the course.
Customer Effort Score (CES)
The Customer Effort Score measures how well your team specifically handles customer related incidents, e.g. support queries. While not directly related to your courses, it's a great way to measure how happy your customers are when interacting with your administration and support teams. A good customer experience extends beyond the classroom and introducing feedback points outside of this will help you identify other places in your business that might require attention.
Harnessing customer feedback in marketing
Publishing positive reviews is a proven way to help increase revenue. Research indicates that over 90% of buyers will read online reviews before making a purchasing decision and that 85%* of those consumers trust online reviews as much as they do recommendations from friends and family. (*Source BrightLocal).
A quick and easy way to showcase your reviews is by creating a customer testimonials page on your website. Share the reviews on social media, in email newsletters, and use them to advertise your business (think Google or Facebook ads). Just make sure you ask permission to post them.
On the flip side, ReviewTrackers' 2033 Online Reviews Statistics and Trends Report states that 94% of consumers say a bad review has convinced them to avoid a business. While capturing and publishing great feedback is important, it's equally important to keep an eye on and address negative feedback and reviews.
Ensure you're keeping an eye on external reviews on Google and social media, any common community forums, and industry sites like Course Check. Proactively respond to negative reviews, acknowledge them, and seek to understand and resolve the underlying issue.
By harnessing customer feedback as a powerful tool for your business, you can gain valuable insights into your customers' needs and preferences. Use that feedback to improve customer satisfaction and loyalty, and gain a competitive advantage in the marketplace.