Zoom nailed the core basics of seamless video conferencing early on. Now, the company is continuously evolving to deliver on its vision; communications empowering people to accomplish more. In this blog post we cover the latest Zoom features that will empower your training company to accomplish more in 2023.
By now we understand the importance of adapting and evolving for business success and survival. We all know the tale of Kodak, the most prominent photography company in the world that went bankrupt after failing to adapt to the introduction of digital photography. We also know the story of Blockbuster declining to buy Netflix for a measly $50 million as it clung to its outdated business model, only to disappear almost overnight.
And of course, COVID was a major turning point in both business and technology. In the training industry, live online and self-paced eLearning tools were quickly embraced as a necessary tool for survival in a remote world. Those who didn't pivot to virtual training who were left behind, or worse.
But while there were many web conferencing tools on offer; Webex, Microsoft Teams, GoTo and more, it was Zoom that rose to global fame. With the term "let's jump on a Zoom" becoming synonymous with conferences, meetings, and personal calls with family and friends all over the world.
Much like other market disruptors (Netflix, Uber, Amazon as a few examples), Zoom's rapid rise to success and its ability to surpass major competitors was down to its ability to provide a seamless experience. It was all thanks to the company's ability to deliver on its mission statement; make communications frictionless and secure.
But instead of resting on their laurels, Zoom has continued to evolve – like any good business should. From a simple video conferencing tool to a collaboration, communication and connectivity tool. Zoom's vision is "communications empowering people to accomplish more".
Let's look at how Zoom is delivering on that vision in 2023 with its latest features.
Zoom's top features in 2023
Zoom Whiteboard. Giving Miro, and other virtual whiteboards, a run for its money, Zoom Whiteboard is a persistent, digital canvas on which teams can brainstorm and collaborate across locations and devices. Whiteboards help participants brainstorm fast and efficiently with smart connectors, sticky notes, drawing tools, and comments. One added bonus of using this in-app Zoom functionality is having one less tool to integrate with and log into.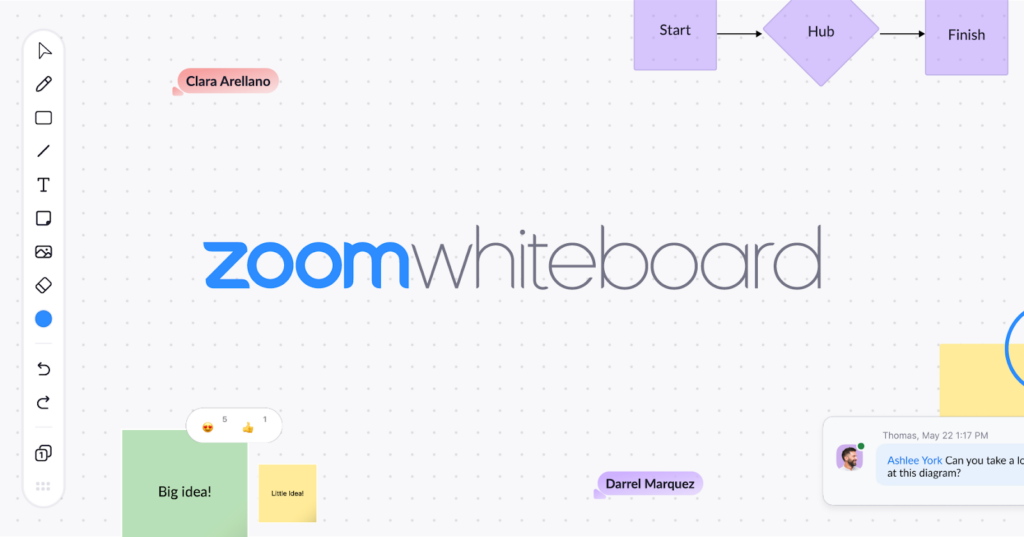 Immersive view. Immersive View enables you to recreate the feel of your class or conference room by placing up to 25 video participants onto a single virtual background. When used in a webinar, the host and panellists will be placed together onto the virtual background, while attendees view the scene. This allows everyone to discuss and collaborate in a cohesive virtual space.


Zoom Rooms Smart Gallery. Zoom Rooms Smart Gallery uses AI to create individual video feeds of in-room participants, providing remote employees with an individual, clear view of each participant. It also enables remote workers to be represented equally on the screen with other participants, creating a more inclusive environment for participants who are joining remotely.

Powerpoint as Virtual Background. The Powerpoint as Virtual Background feature gives you the ability to put a PowerPoint presentation as your virtual background and allows your participants to view your webcam imposed directly on the presentation. The presenter can also manage the PowerPoint presentation directly from within the Zoom meeting controls. If the presenter records the meeting locally, the recording will also have the video embedded on top of the slides, making this a great feature for running live online sessions as well as creating on-demand training videos.

Enhanced security. After "Zoombombing" unfortunately became a real problem, Zoom made an effort to step security up another notch. Now, Zoom hosts can password protect, set up authentication profile restrictions, and add waiting rooms to their calls. With waiting rooms, the host has to accept each user before they're allowed into the call. Plus, Zoom gives hosts a lot of in-meeting capabilities, like muting the audio or disabling the video of individual participants. It even has a feature called "Suspend Participant Activities," which turns off all video, audio, chat, screen sharing, recording, and more, and an option for emergency shutdown. All of this helps to ensure your training sessions are private, secure and uninterrupted.

Live transcription. Zoom has offered closed captions for a while now, by allowing you to use the automatic transcription of the recording to display the transcript text within the video itself. Making your recorded videos more accessible and inclusive. Now, Zoom has live transcription, meaning the speakers' audio is converted as a text caption live during the webinar or meeting, to help participants gain a better understanding of what is being said during the live meeting or webinar.

Enhanced chat. In-meeting chat and Zoom Team Chat are two powerful ways to increase engagement with your attendees. In-meeting chat now supports more advanced forms of messaging, including in-line image previews, rich text formatting, screenshots, threaded replies, reacting to messages with emojis, and message quoting. Messages can also be deleted after being sent. Hosts can also enable Continuous Meeting Chat and invite all guest participants in attendance to a channel in Zoom Team Chat. This enables participants to communicate before, during, and after a meeting in a dedicated group chat.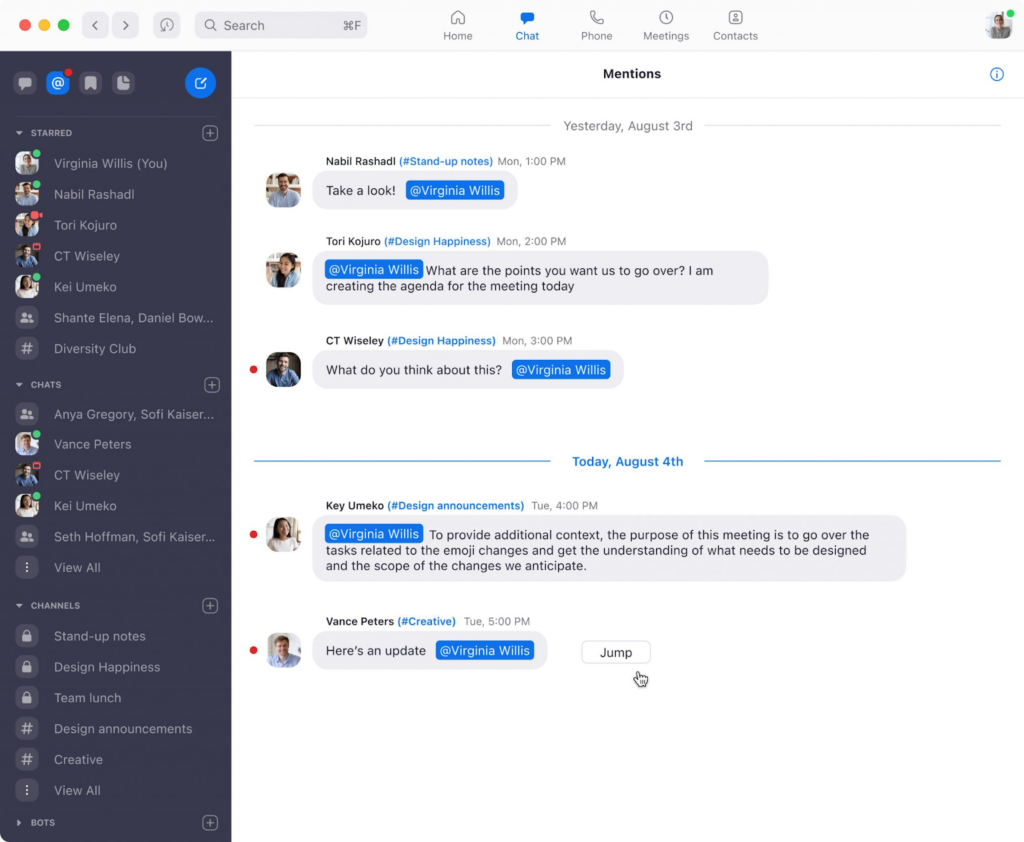 Zoom's latest features are truly designed to deliver on the company's mission and vision.
For training providers, these features help you solve some of the key challenges of remote and hybrid training. While simultaneously reducing the necessity and cost of introducing additional tools and systems into your training business and integrating them with your existing software.